Marketing
SAY NO TO PLASTIC BAGS AND A BIG YES TO REUSABLE BAGS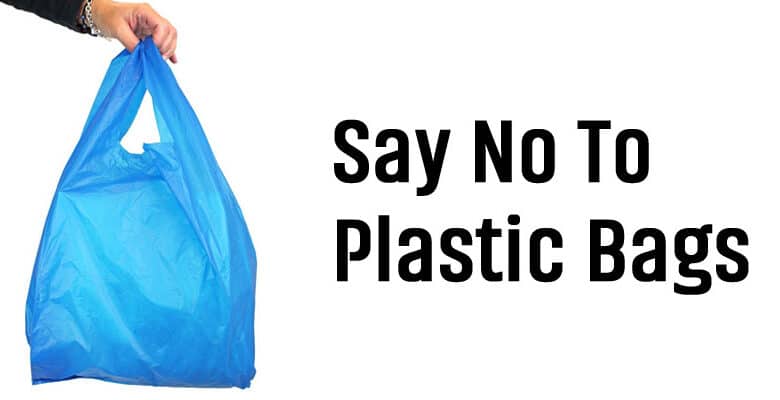 We all are well aware of the harm that plastic bags are causing to our planet. plastic has non-biodegradable properties.  A large amount of oil and natural gas is used to manufacture plastic bags. More the usage of fossil fuels declines the presence of natural resources. We all need to take the initiative to choose reusable bags over plastic ones. Reusable bags preserve our natural resources and are helpful in reducing plastic bags. With this, you are also taking a step to reduce the amount of money used to clean it up.
Plastic bags are non-biodegradable and don't get disposed of. They remain in our surroundings and clog up waterways. It takes a lot of money and labor to clean up the plastic garbage. According to the latest statistics, a state spends several millions of money to remove plastic bags from the streets. This also includes the charges of sending plastic to the landfill each year.  This is the main reason why the government is so serious about plastic waste.
The one of the great benefits of reusable bags is that they can be used several times and can be disposed of easily when not in use. If you start using reusable produce bags, you can save all the money that is being wasted on manufacturing plastic bags. There are plenty of benefits of using a reusable bag, and listed below are some of the most common benefits of using them in your day-to-day routine:
Save More with Reusable Bags
Using reusable bags is a smart choice. It can help you to save your money while protecting the environment from damage. There are several areas where big stores have started to impose extra charges for taking plastic bags. It is preferred to carry your own reusable bag to the store, whether big or small. This can save your money from being wasted on the plastic bag on each purchase.
Save Space in Your House
Whenever you go to the market to buy things for your house, you always get a plastic bag that takes up space in your house. It clutters in your household, shelves, and workspace. Just imagine, if you take a reusable bag with you for shopping, you don't have to bring plastic bags every week to your home. Your one reusable bag can work equivalent to 260 bags in a year. Your one reusable bag will not clutter the kitchen, pantry, and car, and you will get enough space to keep other important things.
Durability and Reliability 
Reusable bags are durable bags. They are capable of carrying enough items at a time up to the brim. Its durability prevents it from ripping off or tearing on the way to your home. If you use a plastic bag, you need to use double bagging for heavier items, while you don't need to double bag in a cotton reusable bag. Cotton bags are reliable bags and can be used as a grocery bag, beach bags, and sometimes as a purse. There are infinite uses of just single reusable bags.
If you are currently using plastic bags, then you are not late. Switch to reusable bags and say goodbye to plastic bags and the clutter they form in your house. If you get a reusable bag of the best fabric, such as cotton, then you can use it throughout the year with proper maintenance. Reusable bags can be folded up and take up less space than plastic bags.
Things to Consider While Buying Reusable Bags
A homemade reusable bag is not preferred when it comes to styles. Manufactured reusable bags come in all sizes, and you can buy them according to your needs. They are properly stitched, which makes them better and durable bags than a regular sewing machine. It is better to buy reusable produce bags from the market at affordable prices.
Reusable bags are also made from second-hand fabric. This is the best when you want to make affordable reusable produce bags. You can also find bags made up of second-hand fabric in the market. The old fabric comes from old bedsheets, net curtains, tablecloths, etc.
Reusable bags come in different fabric types. They don't have the same properties, but the above mesh bags are proven to be the best. They are lightweight, but you cannot use them for carrying small thin things. Cotton mesh bags are the best mesh bags, made from natural fiber and used to carry out the weight of heavy items. 
Once you take the environment-friendly step, you will stop using plastic bags anymore. The mesh bags are ideal for produce bags, and choosing them is a smarter choice. You can reduce plastic waste in the environment by using cotton mesh produce bags. Use reusable bags and minimize every danger to the environment that a single-use plastic bag is causing.