Featured
Set Out Your Vision For The Next Project With The Best Online Moodboard Template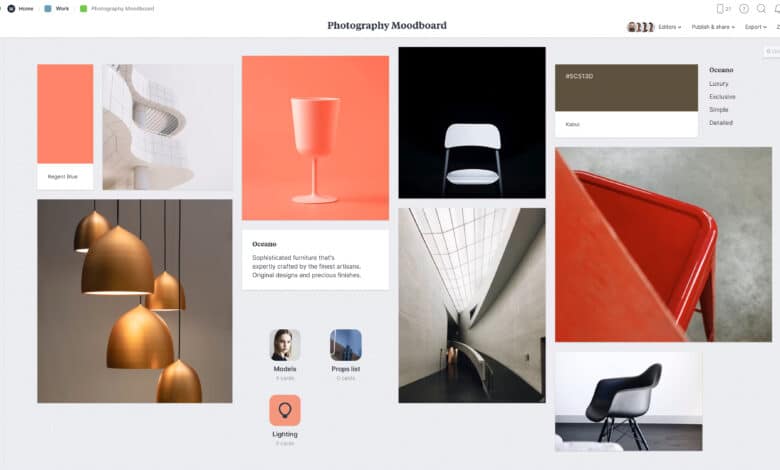 Mood boards are crucial in any digital design. Besides, creative designers, architects, content writers, and event planners use these presentation tools. These tools are the first step in coming up with a clear vision, goals, and style within a project.
Mood boards make it easy for designers to create a collection of images, text, and any helpful inspiration for a unique project. With your mood board, it becomes easy to communicate your ideas and concepts visually to a team of designers or customers. The good thing is that even if you find it hard to create your own design, you can rely on an online moodboard template.
The template you come across will help quickly reflect your ideas with a stunning mood board. You will find it easy to demonstrate your creativity with a single striking visual. In addition, a well-designed template will help set the right tone and direction for your project with an inspiration board.
Designers, photographers, filmmakers, illustrators, and creative professionals, have one thing in common. They strive hard to embrace the best technology gracing their industry. Do you know online mood board templates can change how you perceive different visual presentations?
Your best answer is probably a YES if you have ever used a template to create mood boards. But there is a lot to know before you rely on such platforms to create amazing creative projects. Keep reading here.
How to Set the Visual Direction for Design Project with Online Template
With an online template, you can create your mood board from scratch. The best mood board template makes it easy and quick to visualize and design all your projects. An online template will let you plan, organize, and communicate your creative concepts.
Mood board templates come with distinctive and intuitive features to make your projects unique. For instance, there is a wide range of shapes and formats to include in your boards. There is a lot to do with the templates you find online and create your mood boards. Have a look:
1. Choose From Hundreds of Free Built-In Images
You can find many free images online and add them to your mood boards. However, picking the right one can be a challenge.
The good news? Using the right template, you can find authentic images to drag and drop into your boards. Alternatively, you can upload your favorite photos or pictures and add them to your boards.
2. Save Inspiration from the Web
You don't have to stress finding images from different sources to use in your mood boards. It is also easy to save inspiration from the website if you find a reliable template for your project. You can also install software that will help instantly save images or links to your boards whenever you visit the web.
3. Add Fonts, Videos or Files
You don't want your mood boards to be static-filled with just images. A standout template will make it easy to easily add videos, color swatches, fonts, PDFs, animated GIFs, and more content when creating your boards.
Final Thoughts
Creating mood boards should no longer be a daunting task. With the best online mood board template, you can take your design projects a level higher. You just need to choose a template that offers all the necessary elements you need.
Once you get the right inspiration, you can go on and create the perfect composition. If not sure where to start, feel free to seek help from creative professionals using different templates to create mood boards.
For more valuable information visit this website