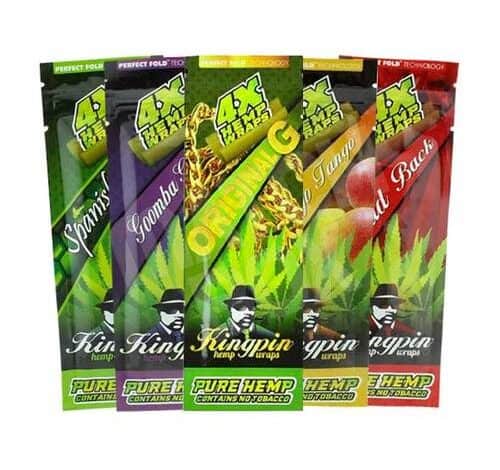 The Latest Natural Hemp Wrap Sensation 
Have you been looking for a great new hemp wrap to try? If so, you should definitely consider checking out Superhemp Wraps. Flavorful, smooth, and slow-burning, these wraps are perfect for any smoke session. 
Below, we'll walk you through everything you need to know about Superhemp Wraps. That way, you can decide if they're the perfect organic option for your smoking needs! 
Organic and Natural Hemp Wraps 
One of the best things about hemp Wraps is that they're totally organic. That means that they're free of additives, chemicals, and unnatural flavors. As such, you'll taste nothing but pure green goodness. Obviously, they're made of hemp, meaning that they're the perfect vehicle for your herb.
Moreover, Superhemp Wraps are nicotine, tar, tobacco, and GMO-free! So, you can get wholesome and satisfying smoke without any of the addictive properties found in tobacco wraps. All in all, if you want a more natural and authentic blunt wrap alternative, Superhemp Wraps are worth a try. 
Smooth and Slow Burning 
In addition to their all-natural goodness, hemp Wraps burn smoothly and slowly. Each wrap is easy to roll with and virtually mistake-proof. After you've rolled the perfect blunt, you can light up and unwind in tranquil peace. 
A Great Value for the Money 
Since Superhemp Wraps come in 25-count "super seal" foil pouches, they're a great value for the money. These resealable pouches keep your wraps fresh and bursting with flavor. As such, you can use them up at your own pace!
Top-Rated Flavors
If that's not enough to get you interested, these wraps come in an array of mouth-watering flavors. You can choose from premium flavors that are fruity, natural, or deliciously sweet! Specifically, Superhemp Wraps come in Blueberry Pineapple, Mango, Sweet, and Original flavors. 
Superhemp Wraps Blueberry Pineapple
For smokers who love refreshing and fruity flavors, this is a great option. Loaded with premium natural pineapple and blueberry essences, these wraps are fruity, refreshing, and supreme to smoke with.
Superhemp Wraps Mango
Take your taste buds on a tropical trip! Natural mango flavors make these wraps a juicy and unforgettable treat. Moreover, they smell absolutely delightful.  
Superhemp Wraps Original 
For smokers who want nothing but OG flavor, Superhemp Wraps Original might be the way to go. You'll get nothing but pure, smooth, and slow-burning satisfaction. 
Superhemp Wraps Sweet
Are you in the mood for some sweet green goodness? Well, Superhemp Wraps Sweet flavor might be for you. Not only is this a sweet treat, but it's also totally natural. 
Try These Natural Hemp Wraps Today 
So there you have it! To summarize, Superhemp Wraps are nicotine-free, all-natural, and slow-burning. They're ideal for smokers who want a fantastic value on a natural blunt wrap alternative! With their super seal pouches, they lock in flavor and are just right for rolling with. 
To try Superhemp Wraps for yourself, simply click the aforementioned link. From there, you'll be taken to one of the most highly-rated online retailers of Superhemp Wraps! In addition to this, you'll be able to see various other premium smoking products at amazing online prices. 
For more articles visit this website