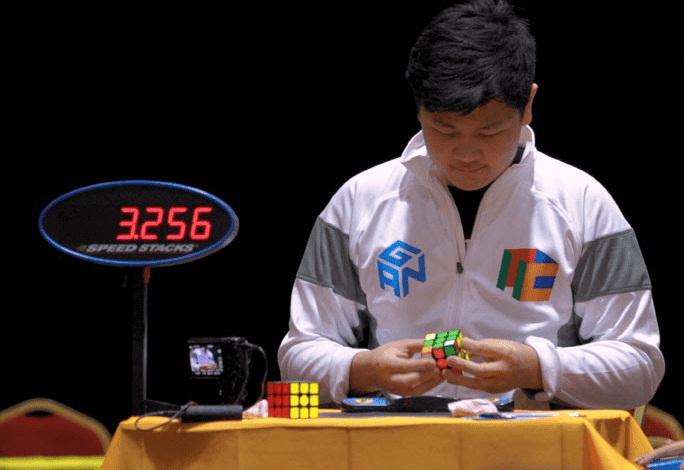 Top Cubers in the World
The Rubik's Cube records are always a source of fascination. Whilst there are thousands of people who can solve the cube worldwide, and many who can solve it quickly, not all get to see fame. If you want to know more about the cubes used in the WCA or wish to make purchases you can visit here. In this article, we take a look at some of the top cubers in the world who have created a great impact in the community and have broken as well as set records.
Top Cubers in the world
Yusheng Du 
Yusheng Du set a new Rubik's Cube single World Record (Wuhu Open 2018) at an amazing 3.47 seconds. He achieved the first official sub-4-second 3x3x3 Rubik's Cube single and beat the previous record set by FeliksZemdegs by 0.75 seconds. He used the MoYuWeilong GTS2 M cube in his record solve.
If you would love to see a complete breakdown of his solve, you can watch this video by Phillip Lewicki
FeliksZemdegs 
FeliksZemdegs is an Australian Rubik's Cube speedsolving and set the record of 4.16 seconds at the Auckland Summer Open 2020. He is also the only speedcuber to ever win the WCA (World Cube Association) World Championship twice, in 2013 and 2015. He uses Gans 365 XS cube in the competitions.
Patrick Ponce 
Patrick Ponce is an American speedcuber who comes from New Jersey. He started cubing in 2012, and by early 2014 he was achieving sub-10-seconds averages for 3×3. At the Northeast Championship 2019, he got the fastest single solve at 4.24 seconds. He uses a BroonValk M which is not available for purchase but is quite similar to the Cubicle Valk M.
NicolásSánches 
In the fourth number, NicolásSánches solved the puzzle in 4.38 seconds in December at the GA Cubers Feet Fest 2019. This is one of the newer 3×3 times to break into the top 5 fastest of all times. Nicolás can consistently get solves around the 5-6 second mark.
Max Park 
Max Park is among the most famous speedcubers in the world. He currently holds the record for the fifth-fastest single solve with 4.40 seconds solve. He holds the world records for 5×5 – 7×7 single as well as world records for 4×4 – 7×7 average of 5 solve times.
His story is very inspiring as he was diagnosed with autism at an early age and was introduced to cubing as a channel to help him grow his communication skills. Fueled by his passion for the puzzle, he has become one of the fastest speed solvers the world has ever seen. He continues to break records and be a source of inspiration for the speedcubing community.
Juliette Sébastien 
Juliette Sébastien is a French speedcuber who currently holds the Female World Record for 3x3x3 with 7.18 average solve and 4.44 seconds single solve at the Sens Open 2019. She also currently holds 2 European records and is among the fastest speedcubers. She is also among the top French cubers in the two-handed 3×3 event.
TymonKolasiński 
TymonKolasiński is a Polish speedcuber who specializes in 3×3, 4×4, 5×5, 6×6, 7×7 and Pyraminx. Tymon gained fame after breaking Drew Brads' Pyraminx world record average in 2017 only after a year and a half activity in cubing. Tymon became the Pyraminx world champion with an average of 2.40 in the final WCA World Championship 2019. However, he currently holds the record of 4.51 seconds for a 3x3x3 solve at the Warm-Up Sydney 2019.
Sebastian Weyer
Sebastian Weyer is a famous German speedcuber. He specializes in 4x4x4 solving and has broken the 4x4x4 single solve world record nine times. He was the 2017 World Champion in 4x4x4, 3-time European champion in 4x4x4, 5-time German Champion in 5x5x5 and 2013 German Champion in Megaminx.
He currently also holds the world record for the single 4x4x4 with a solve time of 17.42 seconds in the Danish Open 2019.
SeungBeom Cho
SeungBeom Cho from Korea has set a new Rubik's Cube world record in the Chica Ghosts 2017 competition with 4.59 seconds solved. The previous record was set by Patrick Ponce and only lasted two months. SeungBeom used a magnetic MoYuWeiLong GTS2M cube for this competition. He also currently holds the national record for the 2x2x2 cube.
TanzweBalimtas 
TanzweBalimtas is a competitive speedcuber and a former North American Record (NAR) holder for the fastest 3×3 cube single, at 4.64 seconds. He currently ranks 4th in the world for singles and 12th in the world for average (6.70 seconds).
Conclusion
There are always people trying to beat world records, and over the years the margins between the rankings for most events are really small. Even after years of its invention, the Rubik's Cube and its shape mods are challenging, yet fascinating to solve.