Tech
Who Can Become A Blockchain Developer
Blockchain Developer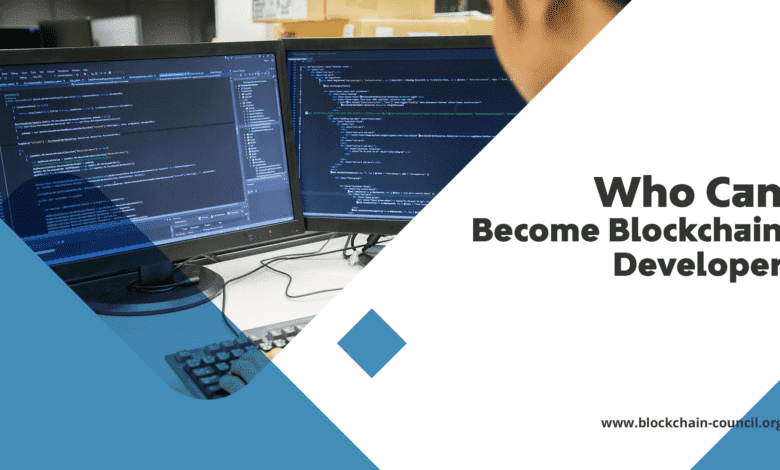 Who Can Become A Blockchain Developer
The last decade has witnessed massive development in the field of Blockchain technology. People and businesses came to know about the technological revolution Blockchain brought, and they have also seen enormous growth in the Blockchain demand. Blockchain technology has developed a new way to keep the records safe, secured, and faster without the central governing authority's involvement.
It has changed the form completely, how industries work, and maintain the track and record of transactions. Due to the benefits it offers, many companies and startups have started taking an interest in Blockchain technology. Such an interest in Blockchain technology has further given the push to soaring demand for Blockchain developers. 
According to some reports, Blockchain tops the list of most job providing industries. Being the most revolutionary technology of the decade, Blockchain has created numerous job opportunities for developers and tech professionals. Despite this, many Blockchain aspirants are still confused about how they should take to become a Blockchain developer. In this article, we will discuss how one can develop the potential of becoming a Blockchain developer. But first, we need to understand that who is a Blockchain developer and what he does? So let's start with this.
Who is a Blockchain Developer?
At the most basic level, anybody involved in Blockchain technology development can be tagged as a Blockchain developer. A professional Blockchain developer is a person who holds a potent mix of skills and expertise in areas such as cryptography, algorithms, data structures, and computer networking. He may be having experience in the implementation of a specific type of Blockchain like Bitcoin or Ethereum.
A Blockchain developer is responsible for developing smart contracts and web apps and works to create and optimize Blockchain protocols crafting Blockchain systems' architecture. Blockchain developers are also entitled to a higher average salary package as compared to other technocrats and professionals. But, becoming a Blockchain developer is not that easy, and only that person can become Blockchain professionals who have an exclusive set of Skills essential to become a Blockchain Professional.
Now, lets' discuss and understand what skill sets are needed for a person who wants to become a Blockchain professional.
Prerequisite for Blockchain Developer
FUNDAMENTAL SKILL AND KNOWLEDGE IN TECHNICAL FIELD: The first step in the journey to become a Blockchain Developer one should have good knowledge of Information Technologies, Data Security, and Computer Science. An aspiring Blockchain developer should understand distributed systems, networking, cryptography, and data structures. It will give the aspiring Blockchain developer a fundamental understanding of how Blockchain technologies work and where it can be applied for the best results.
SMART CONTRACTS: These are the programs that help to automate the transactions. It is useful in enhancing the potential of Blockchain without posing need of a mediator or lawyer to settle the deal and to resolve the dispute if any. These contracts are made with specific conditions or in particular circumstances. A developer should be well-known with all the possibilities of execution of a smart contract.
DECENTRALIZED APPLICATIONS: Decentralized applications are built on various Blockchain platforms with which Blockchain developers work. Some of the popular Decentralized Applications are:
Hyperledger- It aims at developing technologies in the cross-industry Blockchain using and open-source collaborative platform.
EOS- EOS Blockchain is a decentralized operating system with more scalability and higher transaction speed and supports industrial-scale applications.
Few more examples of such decentralized applications are NEO and Ethereum.
LEARN TO SIMPLIFY: A Blockchain developer should know about applying design thinking methodology and be capable of driving innovations using this methodology. The utility of Blockchain is due to its capability to simplify the business processes to drive the outcomes of companies.
WEB DEVELOPMENT: It is the core competency needed in a Blockchain Developer. At the initial stage of their career, most Blockchain professionals are employed for the basic designing of decentralized applications. For this, an aspiring Blockchain professional must know the basics of both -end and back-end development, including interactive graphical user interfaces for DApps, API handling, and request handling.
PROFICIENCY IN PROGRAMMING: Advanced knowledge of programming is a must for a Blockchain developer, and for this, the person requires to have proficiency in major programming languages such as C++, Java, JavaScript, and many more.
UNDERSTANDING OF BLOCKCHAIN SECURITY: An aspiring Blockchain developer needs to learn about essential security skills such as elliptic curve digital signatures, Merkle proofs, cryptographic hashing, private key, and public-key cryptography, etc. Different security frameworks in Blockchain are being evolved as they are crucial in regulatory needs, legal needs, and compliance needs.
DISTRIBUTED LEDGER EXPERTISE: Distributed ledger technology is an important skill an aspiring Blockchain developer needs to learn. An aspirant should understand this and gain expertise in this as this technology of Blockchain helps accelerate the development of smart contracts.
LEARNING TO DRIVE BUSINESS OUTCOMES: A Blockchain developer must learn to understand the business process's expected results. Building direct connections and exploring data flows between customers, suppliers, and trading partners across the ecosystems are fundamental responsibilities of a Blockchain developer.
The IT industry has witnessed the enormous growth of Blockchain technology in a short span. It cannot be denied that the Blockchain is proved to be a better option available for businesses seeking growth shortly.
Many large companies have already integrated Blockchain processes in their network infrastructure and reaping its benefits. This has opened up a gateway of opportunities for Blockchain aspirants or those pursuing Blockchain developer courses. The skills mentioned above are requirements a person needs to fulfill to become a Blockchain developer, and a Blockchain developer certification helps an aspirant learn all these.