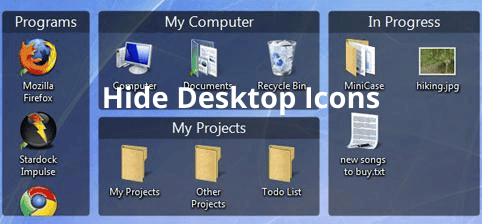 There are moments you may need to show a clean desktop by hiding all the icons on your computer. If you want to clean your desktop, Windows can be a bit obnoxious. The applications you install will add their icons on the desktop; you will keep on deleting them. You can skip this hassle and instead hide all your desktop icons.
Hiding all desktop icons
To hide all the desktop icons;
Right-click on the desktop click to view and then untick show desktop icon options. Therefore, if you want to add some clutter or get a better view of the background picture, you can hide all your desktop icons with only a few clicks. Suppose you want to hide just a few of your icons; you can do that too, but it is always a little bit complicated. There are two types of icons, and they all need to be hidden in two different ways.
How to hide system icons?
To hide default system icons such as the recycle bin and this PC, you will need to go through your themes to hide them.
You need to right-click anywhere on the desktop and select the bottom option of the popped-up menu. Click on the themes option in the windows that pops up.
On the right side, you will notice an option that says desktop icon settings. Sometimes it might not be on the right side; therefore, you might check at the bottom. This depends on how big your window is. It may be further down the page rather than on the right. Be sure to click on it for you to open another window where it will display a list of system icons.
Hiding them is just straightforward. You can swap out icons for anything else if you want. Ensure that you click on the icons you need to change and then one change icon. Select the one you will use and click OK.
Hiding user-created icons.
There is no way to hide the user-created icons, they are the icons that are created when you install a program, but there are two ways to get rid of them from a display. In the case of shortcuts, you can get rid of them by deleting them without affecting the program installed. Even without the shortcut, you can get rid of them ideally since the actual software is stored somewhere else.
In the circumstances where the actual files are stored on the desktop, deleting them will clear the data entirely. Therefore, your best option is to move the files you don't need to a specific folder somewhere else.
To create a file, you need to open file explorer in any location of your choice and right-click, then select New, and click on the folder. You need to rename the new folder, but once that's achieved, you can move all the files you need on the desktop in there. You can still drag them into an existing folder if you choose not to make a new one.
you can help to drag-and-drop the shortcuts to the program into folders if you don't need to delete them since they will still work for launching the program will take a long to
Recommended: