Digital Marketing
SEO
Top 7 DUMBEST MISTAKES EVEN ESTABLISHED COMPANIES DO WHEN HIRING A WEB DESIGNER/DEVELOPER
HIRING A WEB DESIGNER/DEVELOPER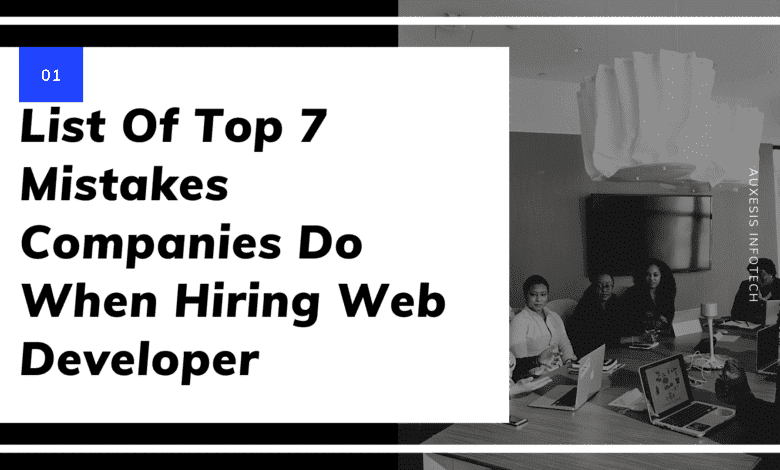 Top 7 DUMBEST MISTAKES EVEN ESTABLISHED COMPANIES DO WHEN HIRING A WEB DESIGNER/DEVELOPER
When you start off with your website project, the first thing you do is to look for a web designer and developer. This is because a well crafted and strategically designed website takes years of experience and expertise of the market to work efficiently in the given budget and time span. A lot of people confuse web design and development with a simple web page and end up doing it themselves but that's where they go wrong. This can not only make the process a lot harder but also put unnecessary pressure on your head that you can easily avoid by simply investing in professional web development services.
However, the bigger challenge is to find the right web designer/developer to get your work done as it can be a stressful and difficult task to find services that can suit your requirements and vision about your project. Well, there are quite a lot of things that you need to consider before hiring a web designer/developer but before that, you must know what you should avoid in order to get the best experience and outcome.
So, let us discuss some of the top dumbest mistakes that even established companies or experienced business owners tend to make when hiring a web designer/developer for their website.
List Of Top 7 Mistakes Companies Do When Hiring Web Developer
Paying Too Less 
One of the major factors that can entirely affect the development of your website is the cost spent on it. For developing or designing an effective website, you need to maintain a balance between too expensive and too cheap when it comes to pricing. This is because if you pay really less during the development process by going with a free web builder, you may have to compromise with a second-rate and poorly crafted website. And compromising is the thing you want when it comes to the most crucial investment for your website.
Paying Too Much
Similarly, paying more than required can do you no good because there is not anything special about the advanced level website programs for web design as pretty much all the websites are made from similar tools that are mainly CSS, HTML, and JavaScript. This makes it necessary for you to make a fair judgment without being influenced by the exterior qualities of a big corporation. Because at the end of the day, your motive is to get your work done at a reasonable cost. So make sure you avoid paying too less and too much by knowing the correct charges that are ideally required.
Not Getting a CMS 
Another very common mistake that most businesses make is not getting a content management system for their website. One of the most considerable reasons why you should go for a proper CMS is because it allows you to quickly update the desired aspects of the already existing website design without having to consult with a developer. Hence, you must go with a CMS that allows you to conveniently make changes and edits. So, by choosing a flexible and scalable CMS, you can avoid spending additional charges on each edit you make in the future. This makes the need to choose the correct CMS platform even more important.
Not Doing Your Due Diligence
Research is important when it comes to investing in a project as big as a web project. And while you looking for a web developer/designer, the first thing that you can do for researching the web agency is that you can go through their customer reviews. Because customer reviews are where you can get to know a lot of their abilities and work strategies. This will not only help you know whether you like their work but also give you an overview of whether they can suit your vision or not. Because at the end of the day, you must be happy with their services.
Hiring Without Comparing With Others
Finding a good developer or a designer is no big deal when you know what you want from them. But oftentimes people tend to look for fewer options and end up with a dull and common website. You may find a decent web agency that can do your work by simply looking for them but what can make you stand out from the crowd is when you find the correct one. There raises a need for strict comparison between a few of the good ones so that you can end up having the best for building your website.
Not Considering a Maintenance for Your Website 
Just like any other long-term useful thing, a website also requires maintenance in order to work properly. Getting the website's maintenance done from time to time is as important as building it in the first place. This is because a website ends up becoming ineffective and irrelevant if it is not updated regularly and according to the latest technologies. So, you must go with an agency that can offer you an inexpensive option to backup your website and perform security and plugin updates and can also be available for you when you need their assistance.
Not Checking the Hidden Fees
Lastly but most importantly you should definitely check for the hidden fees that will be going to be included in the process. This is the reason you must ask for every single detail about the project as it will not only help you save in the future but will also help you estimate the exact cost. Therefore, you must maintain a good level with your developer in terms of communication because that is exactly where you can make or break it for yourself. So, ask for a detailed contract or statement of the work that can some of all the information about all the charges in different stages.
Taking everything into consideration, these are all the mistakes that you must avoid while hiring a developer or designer. Well, if you look at all these factors, we can say that Auxesis Infotech can be a perfect pick for your web project as it is known as one of the leading web design and development agencies that specializes in all sorts of web services with the correct skillset and resources.