Health
What should you expect after undergoing SMILE eye surgery?
after undergoing SMILE eye surgery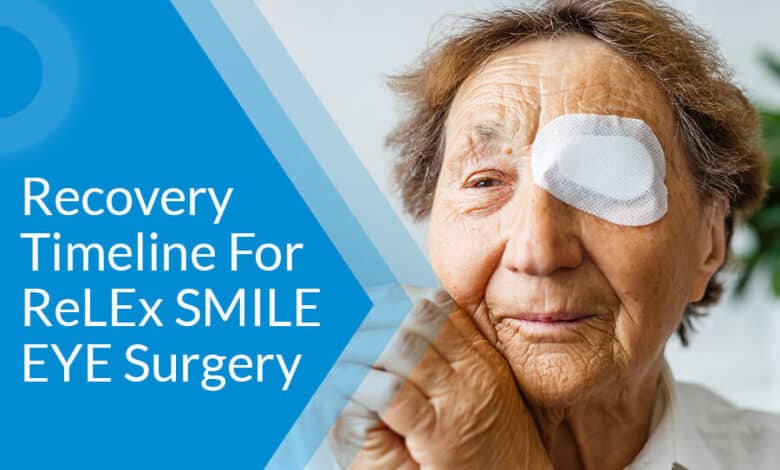 What should you expect after undergoing SMILE eye surgery?
At Optimal Vision, the safety and comfort of our patients during their recuperation from SMILE laser eye surgery are just as paramount as the operation itself. Our dedicated laser eye surgery London team will be available to assist you at every step of the procedure, to make sure your journey to enhanced vision is as smooth as can be.  One of the numerous advantages of getting SMILE eye surgery is the faster recuperation time, but a healthy recuperation is dependent on diligent aftercare. In the rest of this blog post, we'll be discussing more. What you're to expect after undergoing SMILE surgery, and we recommend you follow the guidelines below for best results.
Immediately after your SMILE laser eye surgery
The first 24 hours after your SMILE eye surgery treatment, you will be prohibited from driving. You will be required to make arrangements for a family member or a friend to come to pick you up following your surgical procedure. Although the healing time varies from person to person, most patients, however, get back behind the wheels the following day.
You will be expected to spend the rest of your day relaxing and avoiding activities such as watching TV, reading, or pressing the computer while resting. It's advisable that you take a long nap following your surgery. Your eyes will start the healing process immediately upon the completion of your SMILE surgery. Do not be alarmed if you experience phases of vision fluctuations as you heal.
At Optimal Vision, our patients report about 80% improved vision within hours after their SMILE surgery. As you continue to adhere to your eye doctor's instructions during recovery. You will find your vision continue to get better in the subsequent weeks.
First week of SMILE eye surgery
Even though little downtime is required for SMILE eye surgery, you are expected to take the following couple of days with caution as your cornea heals. Do not engage in any water activities such as soaking in hot tubs or swimming in pools for the first couple of days following your surgery. Ensure you keep any water away from your eyes – even when you're in the shower – until your healing process is completed. At least for the first 2 to 3 days, avoid any heavy or high impact exercises. With clearance from your surgeon, you can expect to resume your normal everyday exercise in no time.
The next day after your surgery, you will be expected to go for a follow-up appointment with your eye doctor. During this visit, ensure you inform them of any vision developments or side effects.
The side effects of SMILE laser eye surgery are not permanent, usually lasting nothing beyond 3 to 6 months. Moreover, they can be managed easily. The most common experiences typically reported by patients are:
Light sensitivity
Dryness
Halos or glares around lights
Fluctuating vision
Unlike other laser eye surgeries, there is a reduced risk of experiencing corneal flap displacement or severe dry eye after your SMILE eye surgery. In addition, one of the plenty benefits to SMILE is that. There is a quicker recovery in terms of dryness and inflammation compared to LASIK. It is very crucial to observe consistent follow-up visitations. Also making use of the lubricating and medicated eye drops as prescribed, to make sure you are on track to comfortable and swift recovery.
The weeks after SMILE laser eye surgery
In order to ensure an easy and swift SMILE eye surgery recovery, practice these recommendations on the weeks that follow your refractive surgery:
Avoid wearing make-up
In order to prevent any disruption to a speedy recovery. Avoid wearing make-up for at least the first week following your SMILE eye surgery. This is because make-up brushes and applicators can team up with micro-bacteria that can cause chronic eye infections.
Continue to use all eye drops and medications as instructed
In the subsequent weeks of your SMILE eye surgery, you will be required to continue to use. All your prescribed medications and eye drops until your eye doctor advises otherwise. Even when the side effects start to diminish, you should continue to adhere to all aftercare recommendations. Refrain from using any non-recommended medications, pain relievers, or drops while healing from SMILE eye surgery.
Use protective eyewear
For at least the first 3 nights following your SMILE eye surgery. Ensure you wear your approved eye covering while sleeping. Whenever you are outdoors, you will have to wear polarized sunglasses to shield your eyes from injurious UV rays.
Stay away from places with dust or smoke in the atmosphere
It is pertinent that you avoid places with airborne pollutants like dust, smoke, or sand. These tiny irritants can not only cause significant discomfort during your healing but also cause damage to the eyes.
Receive a FREE SMILE eye surgery consultation at Optimal Vision center
How do you determine if ReLex SMILE eye surgery is the best option for you? The best thing to do is to book an appointment with our refractive surgeons at Optimal Vision London laser eye clinic in Harley Street today to know whether you're eligible for the SMILE laser vision correction treatment.
We will gladly assist you in choosing the best surgery for your refractive problems and create a treatment plan for effective and safe visual recuperation. What are you waiting for? Give us a call today or book an appointment online right away!