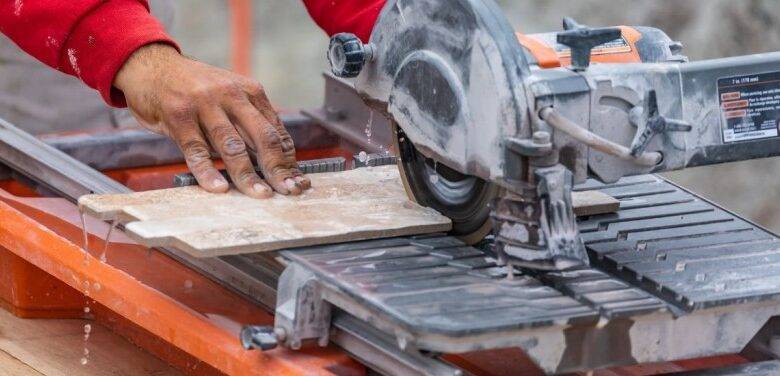 How to Use a Wet Tile Saw Effectively
Are you planning to renovate some areas of your home or office? Are you in the building or interior design industry? If that's the case, you'll almost definitely be dealing with tile. In the last decade, tile wet saws have improved, and their features continue to evolve for better and more accurate cuts of tile materials and sizes.
Why do you want to use tile? It's simple to maintain, long-lasting, cost-effective, and timeless. You will learn to lay tile like a pro as well. Apart from picking the right colors and textures, finding out how to scale and cut it is the most challenging part. This is where you'll learn how to use a wet tile saw. It's a handy piece of equipment that makes cutting tile a breeze. A wet tile saw is necessary if your renovations involve the installation of tile. Rather than hiring a professional to cut your tile, you can save time and money by buying one.
Will you want to know how to do it? Here are some of the many benefits of using a best-wet tile saw under $300, as well as how you can learn to use one.
What Is a Wet Tile Saw, Exactly?
You have two options when it comes to cutting tile. A tile cutter or wet tile saw may be used. Each will cut the tile, but the wet tile saw will do it more easily and accurately.
A wet tile saw saves time but necessitates a little more experience. They work well for projects of any scale and are powered by electricity rather than human effort. A wet tile saw resembles a typical table saw when viewed from the side. The diamond blade and the water sprayer that sprays water onto the working area are the only variations. Some saws are fitted with a water tank or can be connected to a water supply.
The Benefits of Using a Wet Tile Saw
Although wet tile saws are more difficult to transport to a job site, they have several advantages over other types of tile cutters and saws. Here's how to get the most out of your wet tile saw purchase.
Highly straight cuts
Cutting extremely straight lines is simple with wet tile saws. Cutting straight lines is simple and easy with the saw's guide. They also make the most precise and clean cuts. If you measure correctly, every time you cut will have crisp, clean edges that will perfectly align with other tiles. This is largely due to the spinning blade's intense sharpness and longevity.
Cutting the Curves
You can use a wet tile saw to cut curves and other complex shapes into your tile in addition to cutting impressively straight lines. This helps you to be more imaginative and versatile in your tiling projects.
The saw's bevelling function helps you to cut curves and other irregular shapes. It will take some practice to cut curves and shapes. If you've mastered it, the possibilities for tile cutting and tile designs are infinite.
Variety of Tile Materials  
You can choose from a range of tile materials. Clay, water, and sand are combined, shaped, and baked in a kilt to create ceramic tiles. Porcelain, which is made of denser clay, is a common tile that is similar to ceramic. A wet tile saw will better cut any tile you're using in your project. The final cut will be precise, clean, and smooth.
Saves time and effort
You don't have to tire yourself out trying to score, cut, and snap the tile apart because a wet tile saw uses electricity as a power source. The saw does all of the heavy liftings for you, saving you time and days of muscle soreness.
When using a wet tile saw, you must pay careful attention to what you're doing. Despite the time and effort savings, there is always a possibility of cutting yourself or hurting yourself.
It's fitting for workers of all sizes.
When you consider the benefits mentioned above, a wet tile saw is an excellent choice for any project. A wet saw would be most suitable for larger tiling ventures.
Wide tiling projects typically necessitate more tile cutting, more tile supplies, and a longer time to complete. Large-scale tiling projects necessitate further tile cutting, tile supplies, and time. A wet tile saw is the best choice if you need to cut more than a few pieces of tile for a project.
Wet Tile Saw Isn't Always Risky
When you consider the spinning diamond saw blade and high speeds, it's hard to believe, but a wet tile saw is absolutely safe if used correctly.
When cutting the tile, the water reduces friction. You can use the saw for longer periods of time because there is less fire, smoke, and dust. Water also helps to keep the work environment clean of dust and dirt, helping you to see what you're doing clearly.
Choose between a tile cutter and a wet saw for your project
The information given above can help you determine whether to use a tile cutter or a wet saw. The type of content, the complexity of the project, and your level of experience all play a role in your decision. However, making the right decision for your project isn't always easy.
Money, time constraints, tile form, and other factors may all affect which tool is used. Do you still have the luxury of ordering an expensive wet saw if you're short on time?
That's where we'd like to lend a hand. Our specialists will be pleased to learn more about your project and assist you in choosing between a tile cutter and a wet saw. We'll go out of our way to make sure you have the right tool for the job.
If you're going to be tiling a lot, it's a smart idea to invest in a tile cutter. If you're going to be tiling a lot, investing in a tile cutter and a wet saw is a smart idea. You'll almost certainly find yourself in situations where you'll need each tool. It's always preferable to use the right tool for the job.