Featured
Buying a Glamping Tent: Everything You Ever Needed to Know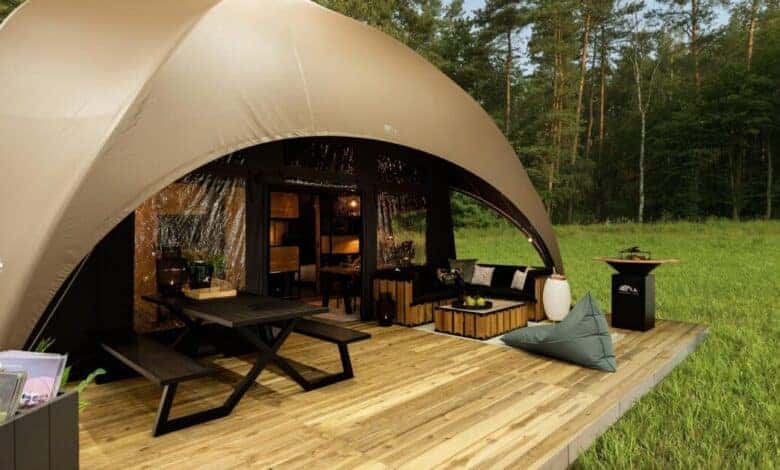 Looking at glamping tents for sale? If you love the idea of camping, but don't actually love camping itself, maybe you'll fall in love with glamping instead. Glamping is the fine art of glamorous (or "glam") camping. It's not a lot like camping since its spacious tents and very elegant furniture create ultra-comfy places to sit, eat, and sleep.
However, it does leave you to explore and enjoy the natural beauty of the outdoors. You can have campfires and do all the camping stuff you want to do. Just at the end of the day you can relax in a weatherproof, fully enclosed, and extremely comfortable glamping tent.
Do You Want a Portable Temporary Glamping Tent, or a Permanent One?
There are some distinctions between different types of glamping tents. Temporary portable glamping tents you put up and take down on glamping locations. Permanent glamping tents for sale have to be erected on specific surfaces and cannot be taken down once they are up.
Some people buy the permanent glamping tents for sale to put up as rentals on their property, or as permanent guest houses for visiting company. Because glamping tents are so comfortable, they can be used for just about anything. You could even erect a permanent glamping tent as a studio or workspace.
Some Glamping Tents for Sale Come Fully Furnished
If you are worried about furnishings for your glamping tent, don't. Some companies (like ours!) sell a packaged glamping tent with furnishings. It's a full-on investment, but you can feel confident in your purchase knowing that the furniture is included and it won't be affected by the outdoors.
Much of the furniture in these glamping tent packages is really beautiful too. You won't see anything ugly or uncomfortable here.
If you decide you don't like certain furniture pieces, you can just as easily swap them out for your own personal furniture collection. All the glamping suppliers do is give you furniture that can last and not be affected by the conditions outside, regardless of the time of year.
If you have other furniture that won't be affected by sun, wind, and other elements inside a glamping tent, by all means use it. The whole point to glamping is comfort away from home.
Check out All Your Glamping Tent Options
When you are ready to make a serious investment in glamping equipment, and you have narrowed it down to which type of glamping tent you want, check out all of your options before finalizing your purchase.
Crossover Lodge has some of the most extraordinary glamping tents and glamping packages made to suit the most finicky of glampers. Lots of room, lots of space, and multiple sizes for glamping tents are available at very reasonable prices.