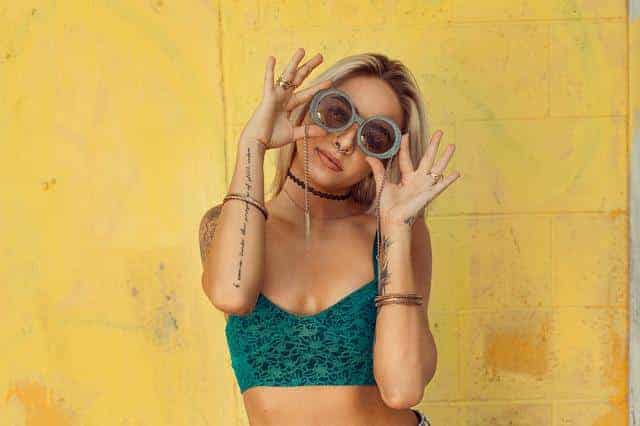 When it comes to buying any sort of eyewear, you must nail your face shape to determine what style would suit you the best. The thing about eyewear is that for it to compliment your face, it should be in contrast to your face shape. This essentially means that curved faces and soft features should wear strong and defined eyewear, whereas angled faces should opt for softer silhouettes.
Before deciding on the best style of sunglasses for a square-shaped face, you should try to understand your true face shape. Square-shaped faces are characterized by bold and angular features. They essentially have a broad forehead, high cheekbones, and a strong jawline. If this description matches you, given below is a guide for the best shapes of sunglasses that suit a square-shaped face:
1.     Round sunglasses
Round sunglasses are by far the best and the safest choice of sunglasses for square-shaped faces. They add the much-needed contrast in terms of curves for angled square faces. You may opt for a simple pair of round sunglasses in one color such as those donned by Gigi Hadid and the Olsen sisters, or opt for a metallic or mirrored pair to make a style statement. They also have a very "jazzy" feel to them and are a fun pair to have around even if you don't have a square-shaped face.
2.     Cat eye sunglasses
The age-old cat eye sunglasses are a God-sent shape when it comes to eyewear. This silhouette is extremely forgiving and versatile, and suits all face shapes including square faces. While choosing a pair of cat eye sunglasses for yourself, opt for one with a defined curve and a straight top that doesn't add more width to your face but adds the necessary curvy contrast. Cat eye sunglasses make square-shaped faces appear softer and more feminine.
3.     Aviators
Aviators are an evergreen style that works for many face shapes, but especially more so for square-shaped faces. Popularized by RayBan and donned by several celebrities such as Tom Cruise, Jennifer Aniston, and Victoria Beckham, aviators make angled faces appear softer without compromising on the masculinity or femininity of one's features. They are a universal and unisex shape that flatters almost everyone but works particularly well for square-shaped faces. If you want to get a pair of aviators from any company other than RayBan, look for styles on Vision Direct.
4.     Oval sunglasses
Oval sunglasses are an alternative to round sunglasses, and they add the depth that square-shaped faces need. The strong angles in square-shaped faces need to be balanced out with curves from oval-shaped sunglasses. Instead of opting for a regular pair, choose a colorful tinted pair to add a pop of color to your look and make a style statement. Popularized by celebrities such as Hailey Bieber and Kendal Jenner, oval sunglasses compliment square-shaped faces in the best way possible.
5.     Butterfly sunglasses
Butterfly sunglasses look great on square-shaped faces as they add much-needed femininity to angled faces. The characteristic feature of butterfly sunglasses is that when held up they somewhat look like a butterfly spreading its wings. Take note, however, that butterfly sunglasses are an innately feminine silhouette and aren't recommended for men with square-shaped faces. You may opt for a bold and simple frame like the one donned by Kim Kardashian in the early 2000s, or opt for a tinted pair donned by Paris Hilton.
Conclusion
There you have it: the above-mentioned sunglasses styles for square-shaped faces are the best compilation of styles to complement bold and angular features. If you are looking to get eyewear and have a square-shaped face, look no further than the above list in purchasing a pair of sunnies for yourself.