Finance
How to Apply for a Personal Loan online Using Aadhar Card?
Personal Loan online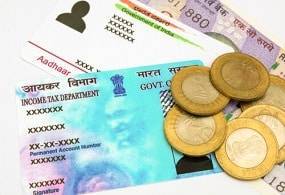 How to Apply for a Personal Loan online Using Aadhar Card
A personal loan has an easy approval system, but there are various eligibility criteria that one needs to follow to get this loan. There are also various documents one has to submit like address proof, id proof, income statement, and many more. For easy documentation, you can submit your Aadhar card as it is the nationally accepted Id.
It is easy to get approval on a loan if you have aadhar card as it is nationally acceptable. All the necessary information like age, address details, etc can be accessed easily. That's the popularity of aadhar card loan for everyone.
What is an Aadhar Card?
In the year 2010, the Indian government launched a universal identity card, providing a foundation for better access to services by a larger population of the country. Apart from being an ID proof Aadhar also helps you get access to various banking services like opening an account, getting a personal loan, filing income tax, and other miscellaneous services. The main objective of the Aadhar Card is:
Give universal identity to each citizen.
A card that can be used as address proof, Birth proof, and identity proof, avoiding unnecessary documentation.
Help individuals get a subsidy by skipping the middlemen.
Let us learn more about how you can get a personal loan by using your Aadhar card.
Apply for a Personal Loan online Using Aadhar Card
While applying for a personal loan, it is mandatory to fulfill some eligibility criteria enlisted by lenders. Some of the criteria include:
The applicant must be a resident citizen of India.
The applicant must be between 21 to 60 years of age.
The applicant must either be an employee of a private limited company or public sector undertaking, or be gainfully self-employed.
For salaried professionals in Mumbai or Delhi, the minimum income must be Rs 25,000 per month.
For salaried professionals in other parts of the country, the minimum income must be Rs 20,000 per month.
For Self Employed: The minimum yearly profit after-tax set based on profession/industry
Apart from fulfilling the have criteria, one is also required to submit the following documents:
∙                     Duly filled and signed application form
∙                     Proof of identity
∙                     Proof of address
∙                     Proof of age
∙                     Salary slips for the last three months (for salaried)
∙                     Bank statement for the last six months
∙                     Income tax returns or form 16
∙                     Proof of Income / financial statements (for self-employed)
Submitting so many documents can be cumbersome with your Aadhar card you can not submit your proof of identity, proof of address and proof of age with just one card.
How Aadhar card impacts personal loan
As a personal loan is an unsecured loan, the lenders fear the loan being defaulted. This is the reason why a long verification process is done before approving the personal loan application. With Aadhar Card the verification has become quicker and simple through e-KYC. While the Supreme Court has ruled that Aadhar is not mandatory for services being offered by private companies, individuals still use it to escalate their approval process.
How to use an Aadhar Card for a personal loan?
A personal loan is availed during emergencies and thus it is important to have a quick and fast approval procedure. Your Aadhar number is a database that contains all the necessary information about your requirements for verification. This makes it easy for a financial institution to verify all your details without any delay.
An Aadhar card also makes you eligible for various financial services that are offered by financial institutions.
Aadhar Card Loan features
With an Aadhar card, you can apply for a personal loan in Fullerton India and enjoy the following features:
∙    Loan Amount: With Aadhar Card you can get a personal loan up to Rs 25 Lakhs. The final amount will depend on various factors like age, net monthly income, existing financial obligations, etc.
∙   Flexible Personal loan rates: The personal loan comes at a flexible interest rate starting from 11.99% to a maximum of 36%.
∙   Hassle-Free Documentation: With an Aadhar card the application process for a personal loan becomes quick and hassle-free. You do not have to submit several documents, instead, one document does it all.
∙    No security: No collateral is required as it is an unsecured loan, so you can keep your assets while also getting additional funds for your emergencies.
∙    Social Services: With Fullerton India, you can also enjoy some special service if you are their customer and use an Aadhar Card for verification.
How to apply for a personal loan?
If you want to apply for the personal loan, follow the below steps:
Step 1: Visit the Fullerton India website or download the Fullerton India app from Google Play Store or Apple Store.
Step 2: Enter all the necessary information about you, including your personal, professional, and banking details.
Step 3: Upload the necessary documents required for personal loan (as mentioned above)
Step 4: Submit Your Application.
Step 5: Once your application is approved, you will receive a confirmation and the loan amount will be credited into your bank account.
You can also contact customer care in case of any confusion regarding the form.
With so many benefits, using your Aadhar Card for a loan is a great option to choose. The above details will help you in understanding how you can get a personal loan approved using an Aadhar Card. However, make sure that the lender you choose is offering you the services based on your requirements.