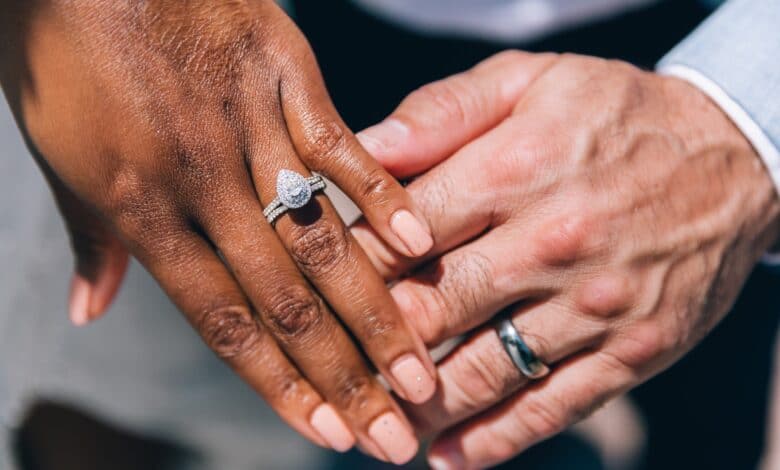 Finding a ring for your big day is seriously a frustrating and overwhelming experience. It holds infinite
memories of your love and commitment towards your partner.
After all this massive research on the best engagement, wedding and anniversary ring, it is time to take
good care of these tokens of your love.
Ditch your jeweller and check these hacks below to clean your rings and other jewel pieces effortlessly
at home.
Diamond rings:
1. Soap & Water: Diamond Rings:
Diamonds are quite an expensive investment. So, their storage and handling need to be
done with utmost care. However, It's not that tricky to keep your diamonds shiny and
lustrous. You can simply use your regular liquid soap and a little warm water to clean
your diamond rings. Put your rings in this solution for about 20 to 30 minutes. It will
loosen up any type of dirt stuck in your ring. Take a soft bristle toothbrush and gently
clean up your ring. Rinse it with lukewarm water and let it dry naturally. Results will
surely amaze you.
2. Non-Abrasive and Chemical-Free Solution: Diamond Rings:
Sometimes your diamonds lose their shine and lustre due to exposure to environmental
factors. You may have tried the trick stated above but are still not satisfied with the
results. In that case, you can opt for products like jewellery cleaning solutions. These
cleansers give you impressive results and save your money also. The only big condition
is to avoid cleansers with abrasive and chemical solutions. The products with these
ingredients harm the metal and may result in diamond discoloration.
3. Do a Daily Rub to Remove Dirt and Oil:
If you wear your diamonds regularly, for instance, your wedding or engagement ring,
you must clean them up with just a cloth every day whenever you feel like it. This way
your diamonds won't look foggy or lose their sparkle. Lotions, perfumes, oils and other
cosmetic products also affect the natural brilliance of your diamonds. A little clean up
can keep your jewellery in a better state for a long time.
Gold Rings:
1. Beer for Solid Gold Rings
Gold or gold plated rings can be cleaned with light beer. It holds the right amount of
acidity to remove dirt and grime from our gold rings. You will need a soft cloth and a
small amount of beer to clean up your gold jewellery. Pour some beer on the cloth and
gently clean your jewel pieces with it. Don't put your jewellery directly in the beer for
too long. Rinse it under running water and dry thoroughly with a towel.
Silver Rings:
1. Baking Soda Paste: Silver Rings:
Silver jewellery turns dark after regular use. You can follow the method stated above for
comparatively new jewellery. However, old silver jewellery may not get that shine and
lustre back with soap and water. You can use baking soda paste instead. It healthily
reacts with metal without damaging it and revives its natural brilliance.
2. Washing Up Liquid And Warm Water
Silver jewellery is no less than any other jewellery. It looks classy and timeless. It does
not take much effort to handle or store it. You can clean your silver jewellery like sliver
oxford oval signet rings easily at home with washing liquid (detergent you use for
laundry) and warm water. Take a bowl and put all your silver jewellery in it with this
solution. Keep it for about an hour and brush off all the dirt with a toothbrush. Repeat
the process every alternate month for the best results.
Gemstones Rings:
1. Dish Soap And lukewarm water:
Gemstone rings hold multiple crevices, tensions and design alterations. This leads to
unnecessary dirt accumulations. You can clean your gemstone rings and other jewellery
items easily at home with dish wash soap and lukewarm water. Let your jewellery stay
in the solution for a while. Dish wash soap contains mild chemicals that don't harm your
precious gems. You can use toothpicks or earbuds to remove dirt and wipe them off
with a lint-free cloth.
2. Alka-Seltzer: Diamond Rings & Gemstones:
Alka seltzer is an antacid primarily used for curing indigestion and heartburn. But several
people use it for other household activities. It is used for brightening white clothes,
cleaning the bathrooms and toilets, and Jewellery cleaning too. It contains some
components that can significantly remove all the accumulated stuff and brighten up
your gemstones. The best part is it's safe for use repeatedly and does not harm your
expensive stones either way.
Platinum Rings:
1. Dish wash Liquid And Warm Water:
You can restore the shine and sparkle of your platinum rings with your dishwashing liquid at
home. You must have seen many people using toothpaste, ketchup and vinegar for cleaning
their platinum rings. No doubt these hacks do work efficiently but they are still a bit harsh on
the metal. Using these tricks over and over can affect the durability and strength of gemstones
on these rings. Dish wash liquids are mild and safe for repetitive use. It removes the debris on
the ring easily with the help of a baby toothbrush or cleaning cloth.
2. Lemon essential oil and baking soda
You must have seen lemon essential oil as a primary ingredient in several cleansers. So in case of
a hurry if you don't own any cleanser just use 2-3 drops of lemon essential oil and a tablespoon
of baking soda in lukewarm water. Rest your platinum jewellery in the solution for 20 minutes
and wipe off with a satin cloth. This hack will save your money and time for sure.
While opting for these hacks you must thoroughly check out your jewellery for any breakage and
scratches. Sometimes these hacks won't give you extraordinary results as your jewellery needs
professional help. The tarnish removal and polishing need to be done occasionally by jewellers for
longer use. The jewellers use ionic or ultrasonic cleaners, steam cleaners with complete safety and
responsibility. The process may cost you but it's worth it.
However, you can make your jewellery last long by removing them while bathing or working with
chemicals. Try to avoid applying your lotions, perfumes and other cosmetic products on rings and other
jewel pieces. Always store your jewellery correctly in the jewellery box away from moisture. It may
sound a bit impractical, but your small concern gives long term positive results.