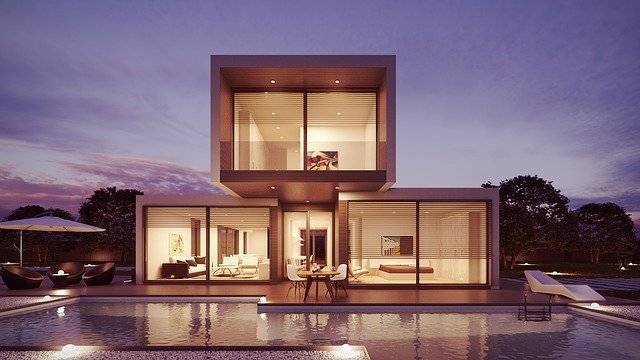 Curtains are an important part of your interior design. They can play a vital role in making your home look put together and beautiful. Because of this, you need to choose curtains that will work well with your room's design. Choosing the right curtains for your windows and doors is essential to improving the look of a room and creating a comfortable and inviting atmosphere.
Choosing the right curtains for your rooms is an important step in creating the perfect space for you, your family, and your guests. Not only do they look amazing but they have practical uses too. They can help keep out light and sound, stop people looking into your home and keep heat in when closed.
This makes them a great investment for your home and helps you save money on bills. Curtains are one of the most important things to get right when you're decorating your home. They're a big part of what gives your home its personality and they set the tone for the rest of your interior design. Here are some tips to help you buy the right curtains for your room from interior design store
Choose the right fabric
When it comes to fabric, your choices are almost infinite. Here are some factors to consider when picking a material for your curtains: Light and privacy. Do you want heavy, dark curtains that block sunlight and provide the utmost privacy?
Or do you want thin, sheer fabrics that allow more natural light into the room? If you want complete privacy during the day, pick a blackout fabric with an opaque liner. Color palette. Pick a fabric that complements other colors in the room.
For example, if your living room has bright red walls and orange throw pillows, look for curtains with similar colors or patterns. Your curtains can also help add color or pattern to a room that's missing it.
Maintenance: How much time and effort do you want to spend on maintenance? Some curtain fabrics require regular dry cleaning to keep them looking good. Others can be washed at home but require ironing or steaming afterward. If there are small children or pets in the house, make sure you choose materials that are easy to clean up spills on and won't stain easily. You can also choose a fabric based on its durability, or what works best with your curtain rod. We've compiled a list of popular curtain fabrics along with their pros and cons below. Cotton is a popular choice for curtain fabrics. It's strong and hardwearing, so it's good if your curtains get a lot of use. It doesn't insulate as well as some other materials, but with a blackout lining, it can be just as effective at keeping out the light.
Cotton is available in many attractive colors and patterns, including stripes and checks. Linen is a natural fabric that lets in plenty of light and offers a more casual look than other materials. These breezy curtains are great for summer because they keep rooms cool, but they won't keep out the cold on winter days – so consider using these in warmer rooms. Linen is also reasonably expensive, so you might want to save it for smaller windows or as an accent curtain that sits behind heavier drapes.
Velvet fabric can be a great option for curtains and window treatments. One of the most popular fabrics you can use for curtains, velvet has a luxurious appeal because of its texture, luster, and durability. While it is more expensive than some other types of fabrics available for window treatments, it's worth the investment when you want to create a luxurious environment in your home Patterned fabrics look great in any room but can be harder to match with your décor.
If you're using patterned curtains as a feature piece in your home, it's best to keep other soft furnishings plain so they don't overwhelm the space. When picking the right fabric for your curtains, you should first consider what style best suits the room. You can go with a classic look and use a cotton-polyester blend, which has the added benefit of being wrinkle-resistant you are looking for a more luxurious feel, opt for natural fibers like silk, linen, or velvet. Silk is light and airy but high-maintenance. Linen adds texture to a room, but it wrinkles easily. Velvet adds drama to space but is hard to maintain.
Pick the right color for your curtains
The color of your curtains should ideally be in sync with the rest of the furnishings. For example, if your sofa and cushions are a deep shade of burgundy, you might consider matching curtains or a slightly lighter shade. You could also opt for a contrasting color such as turquoise or lime green to create a bold effect. Alternatively, you might decide to have a neutral curtain and add pops of color with accessories such as throw pillows. The size of your room is important when choosing curtain colors.
Darker colors are great for making small rooms appear bigger, while lighter shades make large rooms look smaller. If you have a room with a high ceiling, you can make it look lower by going for darker shades.Colors affect our moods in different ways. If you want your room to look more vibrant, choose brighter hues like red and orange. If you want your room to look more soothing and relaxing, stick to pastel colors like light blue and pink.
Select the right length
When choosing curtains, length is one of the biggest factors to consider. The length you choose will depend on several things, including your personal style, the size of your window, and where the curtains will hang from. Curtains that hang from ceiling to floor, known as floor-length or full-length curtains, are often used in formal rooms like dining rooms and drawing rooms. These curtains can also look great in- home theatres or playrooms. If you have tall ceilings, they can help make the room feel spacious and light.
However, if you have low ceilings, full-length curtains may be overwhelming and make the room feel smaller than it is. To let more light into the room without making it feel smaller, consider hanging them just below the ceiling instead. Curtains that hang from just above the window sill to just below the window frame are known as sill length or mid-length (also called café) curtains. These curtains are great for bathrooms where you don't want people outside to see inside when you're having a shower or bath. They're also good in kitchens where they let light in while Longer curtains work well in formal dining rooms and living rooms, while shorter, more casual curtains are a good choice for kitchens and children's rooms. You should also take into account the size of the window when choosing the length of curtains.
Choose the right hardware
The final step in how to choose curtains is to decide on hardware, including your curtain rod.Once you've picked out the perfect curtain treatment, it's important to pick the right hardware to display your stylish new window coverings. Curtain rods and other hanging hardware come in a wide variety of styles and finish options, making it easy for you to find something that blends seamlessly with your decor. In addition, many curtain rods coordinate with other items from our brand, so you can find matching pieces for nearly any room in your home.
Determine where you want to hang your curtains When deciding what type of curtain rod to use, the first thing that you need to do is determine where you want to hang your curtains. Many people choose curtains as a way to add privacy by covering windows and doors. Others use curtain rods as a way to frame a view or highlight their favorite piece of artwork. Regardless of why you have chosen curtains for your space, take a moment before purchasing any hardware or drapes to determine where exactly you want them hung and how they will be used once they are hung in place.