Home Improvement
How to Make Your Kitchen Look More Expensive
Kitchen Look More Expensive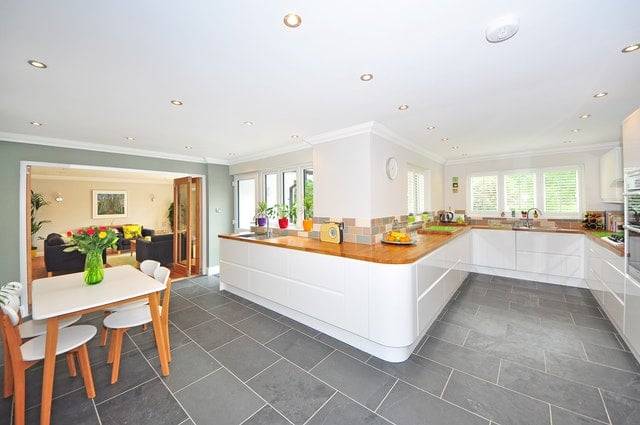 Is it time to renovate your kitchen? Renovation of your kitchen is a wonderful chance, whether your design is outdated, you need a little spice after a long quarantine season, or you're just ready for a change. However, if you're not attentive, the costs can quickly mount. But, if there's one thing we enjoy, it's finding creative ways to make your house look beautiful on a budget. Here are inexpensive and simple methods to make your kitchen appear more costly, ranging from adding color to replacing doors with glass (and everything in between).

1. Make Use of Color
Adding color to your house is a no-brainer method to modernize it (without tossing dollars into the wind). Paint is one technique to make your area appear and feel brand new, whether your space is too tiny to replace altogether or you just don't have the funds for a total redesign.
You can paint your cabinets (maybe a solid color or a soothing neutral… even an accent tone if you're feeling brave!). To establish a new color palette in the area, you may also paint your backsplash, baseboards, shelves, or even your wooden table or furniture. Whatever you pick, painting will give your space a new lease on life without the need to gut and redesign.
2. Cabinet Interiors Should Be Refreshed
In the same spirit as altering the color, you may refresh the backs, faces, and interiors of your kitchen cabinets to give them a fresh look. To begin, you may replace your doors with glass. You can experiment with a back color (the section of the cabinet that is flush with the wall) or wallpaper if you already have glass.
Because everyone can see it as they walk by, adding an accent color (with paint or wallpaper!) or even a deep clean to glass-front cabinets has a significant impact. Even if it's not as obvious from the outside, having a bright and clean sensation when opening the doors is a terrific (and affordable!) update for non-glass cabinets.
3. Light Fixtures Should Be Replaced
Nothing says 'modern' like the most cutting-edge lighting. Investing in how you light your room may really help you get a great aesthetic. There are so many various types of lights—from hanging and low-hanging lights to walls, floodlights, and even string lights that provide a delicate ambiance throughout the evening!
Upgrading to LED lighting, while more expensive, is another choice that not only updates the aesthetic of your kitchen but also saves you energy (and thus money!) in the long term.
4. Decorate Your Cabinets
Dressing up your cabinet shelves is another option if you want to go beyond a fresh coat of paint. Make use of the space between the cabinet and the ceiling by adding a display on top—anything from floral décor and leaves to dishes or even paintings! Smaller objects, such as a wine bottle holder or a place to store coffee cups, can also be built into the underside of cabinets.
You may also use the area above and below the cabinet to hang lights, store charming ornamental bowls, or even display portraits! The goal is to make these areas personal to you while keeping the rest of the design cohesive. Using Copper Range Hood might be an adequate tip for this.
5. Replace Hardware
To achieve a new design, you don't have to fully remodel your cabinets. Replace your handles and knobs with something more modern. Not only is this inexpensive, but it's also a terrific way to tie your cabinets in with other colors in the room and create a new color scheme. And, if you're feeling very daring, you can even save money by installing it yourself!
6. Add Molding to Your Kitchen to Make It Look More Expensive
Molding is an excellent method to 'level up' your kitchen cabinets without having to replace them entirely. Cabinet molding, whether layered on top of cabinets, along the bottom edge or carved into the doors, may give your kitchen a polished look.
7. Include accent colors and items.
Accent colors and products, such as gold finish or brushed brass knobs, are excellent ways to set a sophisticated tone in your kitchen (without having to recreate the room design from scratch).
Depending on the size of your area, changes might be as easy as replacing knobs, faucets, and light fixtures, or they could be added to each and every object to give the room a stronger flair.