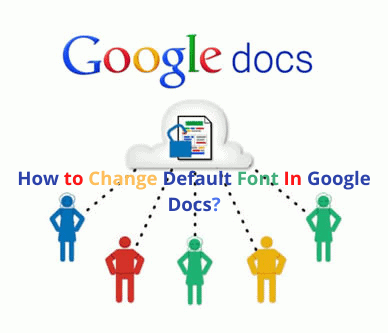 (Change Default Font In Google Docs)
How to Change Default Font In Google Docs
Google Docs is a free web-based google software and is also a part of G-suite for business. You can use Google sheets to write, edit, and at the same time, collaborate with other users.  You can still control those who see your work hence making it a convenient application.
If you frequently use Docs, it is best to have every setting to your preference when opening a new page. If you lean towards a particular font, you may want to skip setting it up every time and instead set a default font in the docs.
Changing the default font.
Most docs users open a new document every time, instead of beginning their work, they spent a lot of time changing the format.  Or probably they initially ignore it, thinking that they will work on it after finishing only to forget at last. Both scenarios can be a bummer.
That is why it is advised to have a font, and any other preference set the way you need from the onset. However, to accomplish this, you have to go through several steps to change the default settings. This is what you have to do:
Open your web browser and navigate to open your docs file. Click the drop-down box and ensure that the style is normal text as well. This is the main initial text style that will be applied throughout the document.
Keep in mind that specific formatting can be applied to the default font such as bold, size, color, underline, and highlight color.
Write a few phrases and highlight them using a mouse.
After that, click the format option, and a drop-down menu will appear. Be sure to select paragraph style and hit normal text. Then click update the normal text to match.
Before saving all your changes, ensure that you change the default for headings and titles too. To achieve this, select one of the options displayed in the drop-down menu and write in any font you desire.
Then go to head to formats and hit on paragraph styles and select title Click update title to match.
In order to save all these settings as the default font every time, you switch to a new document, be sure to hit on Format, click on paragraph styles, and select options. Then select save as My default style.
In case you will ever want to reset your default styles back to initial fonts, ensure that you go to format and select paragraph styles, and click on options. Then select reset styles for you to revert them.
That's it. Just in a few steps, you will have your default font that suits your preferences the best every time you open a new document. Remember, though this will not change your previously saved documents, it is the font you will be using from that moment on.
Choosing a perfect Font
Many people who regularly create documents may probably know the exact font to use for the document. Everyone has their preferred choices. Statement font favors some people. They find the sharp edges favorable for them and ensure the font size is unsuspicious. On the other hand, many people go for the soft font.
A font can affect your audience's willingness to read your document, and some fonts may remind you of payments and bills. Some advertising companies hire focus groups to test out different fonts to attract clients to purchase a particular product. So it is wise if you set a favorite font for your presentation.
Recommended: