Food & Drink
Health
Importance of Laser Eye Surgery to Improve Your Vision
Laser Eye Surgery to Improve Your Vision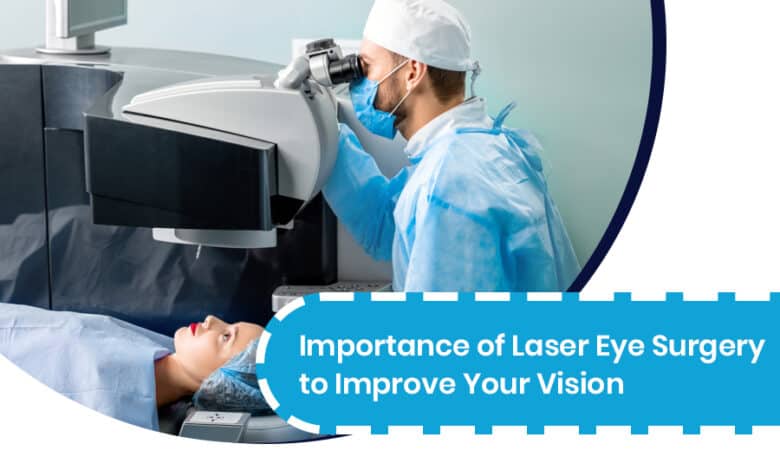 Importance of Laser Eye Surgery to Improve Your Vision
There can be different reasons why you need to perform laser eye surgery to improve your vision. It is considered to be a suitable option for people who are 18 years and above. So, you might think of getting laser eye surgery done for several years. This will include all the benefits with recommendations from your friends and then knowing if it is worth your need. Well, laser eye surgery is the perfect thing you can do in case you do not want to wear eyeglasses and contact lenses to improve your appearance. A very common question that might arise in your mind might be, ''Is Laser Eye Surgery right for you?" To get the answer, let's take a closer look at the procedure along with the benefits and the risks.
The right candidate for laser eye surgery
Every person who wants to perform laser eye surgery should fulfill certain criteria to be the right candidate for the procedure. The strict criteria will ensure that you can attain the best possible result within a short time. Some criteria for laser eye surgery are the following:
You should have healthy eyes
Youshould be 21 years and above
You should not be pregnant at present
During the comprehensive screening method, the eye clinic will check these factors in order to know if you have the possibility of getting your best eyesight possible.
Laser eye surgery might not be the right option if you:
Have high prescription: With a high prescription like extreme near-sightedness, it might not be a safe option at some eye clinics for treating you. So, ReLEx SMILE is a great option in such cases but it is not there at every clinic.
Already have proper eyesight: When you have improved vision and you need to wear glasses or contacts only at some time, then making an investment in this kind of treatment might not be worthy.
Are facing age-related problems: Everyone begins to suffer from a sudden decline in the reading vision during their mid and late 40s. When these changes take place, it might be worth enough to wait for treatment like PRESBYOND® Laser Blended Vision.
Take part in different sports: Though laser eye surgery provides several benefits to sportsmen. It might be worthy enough to consider the risks associated with LASIK when compared to your smile.
The risk associated with laser eye surgery
Laser eye surgery is a surgical method that has some element of risk with it. There are small possibilities of a complication to arise from the procedure. The chances of any complications can be reduced by certain factors such as preoperative testing, the latest technologies, the expertise of an eye surgeon, and follow-up care. Let us discuss some steps in evaluating the risks associated with laser eye surgery.
Speak with an eye care surgeon – He will be able to discuss everything in detail to lessen the risk and their years of experience in dealing with various complications as well as side effects. Both during and after the treatment.
Know the probabilities – It is quite natural to know what might happen during the worst scenarios. You need to get accustomed to every possible chance that can help to know about the procedure in a better way.
Understand the cost associated – All kinds of eye surgery involve some kind of risk with it and this risk can be lessened by selecting a reputed clinic and good surgeon. Many people will find that a five-minute procedure is a right option for your improved and clear vision.
Benefits of choosing laser eye surgery
The benefits of performing laser eye surgery will enable you to improve and correct your vision problems. While better vision may mean you need not have to wear contact lenses for one person. The other will consider playing with the kids happily without any trouble of losing or breaking eyeglasses. But for others, it can be diminishing the risk of getting painful eye infection due to contact lenses. Other benefits of the procedure are the following:
Immediate improvement in vision – Most patients will find some kind of improvement in the eyesight after undergoing the procedure.

 Decreased chance of infecting eyes – Laser eye surgery can lessen the risk for eye infection if you have already suffered from a contact lens infection. Such kinds of infections can put you at greater risk of losing your vision.
The ability for better eyesight
It is quite easy to know about the impact of good living on your improved vision. Laser Eye Surgery will make you more confident and you would like to try out new activities. Discover new places and interact with new people.
Thus, laser eye surgery is an effective treatment that can bring a positive impact on your life and a decision that should not be taken quickly. It is advised that you book a free consultation to get the best offers on laser eye surgery in London and consult with an eye care specialist who can suggest if you are the right candidate to undergo the procedure.