Health
Stainless Steel Water Tank: A Healthy Life Choice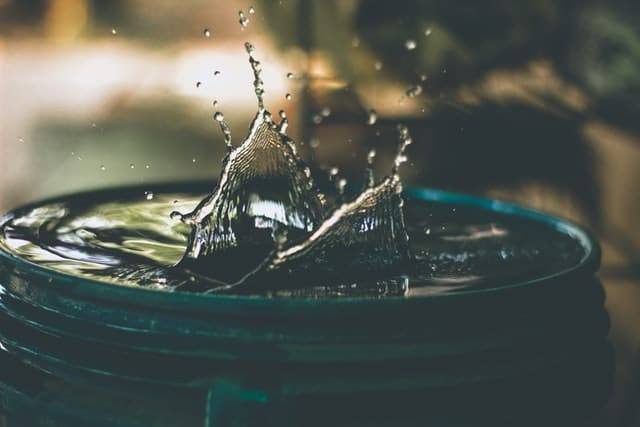 The importance of Stainless-steel water tanks has greatly emerged as people are becoming more focused towards living a healthy life. While purchasing a water tank, you might end up being confused due to the number of options available in the market. People often make mistakes while buying a water tank. However, it is really important to make the right choice while purchasing a steel water tank to ensure the safety of your health.
Over the past few years, plastic water tanks have been quite popular as these are user-friendly but recently, stainless steel water tanks are in demand by the customers.
Stainless steel water tank manufactured by Sun Stellar is highly efficient and innovative. Sun Stellar aims to produce high-quality solar thermal and solar power energy-derived products that help in saving scarce resources. Sun Stellar believes in enriching the healthy lifestyle of its customers by indulging in minimizing the use of energy. A proud Indian brand that works on building Solar technologies that help in protecting the health of humans. We are known as the largest SS Tank manufacturer in India as we use advanced technology and always thrive to stay one step ahead. Our R&D team constantly undertakes new tasks to make human life easier and better.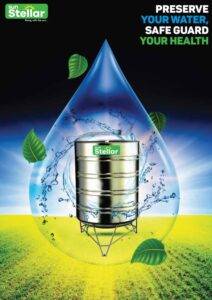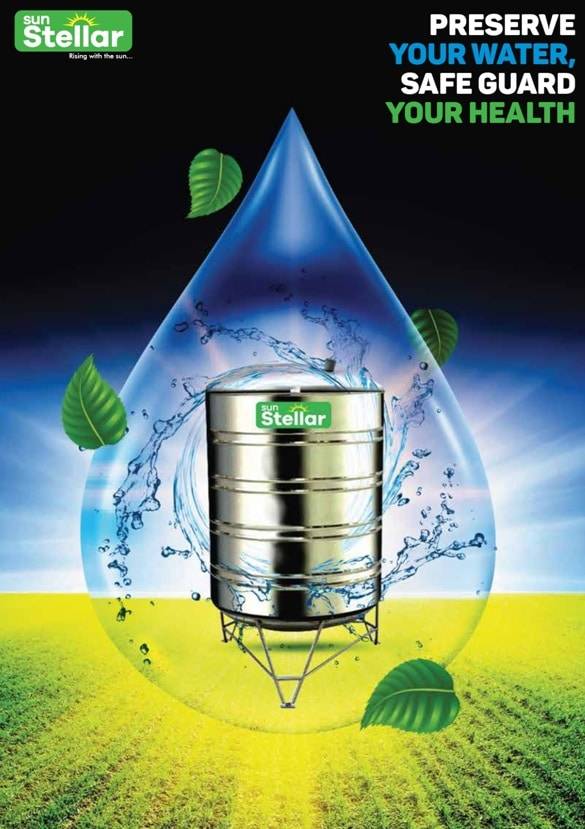 Stainless steel storage tanks have gained an upper hand today because it has low carbon steel with 10% or more chromium that prevents the tank to get eroded. Chromium resistance stainless steel water tanks are corrosion-free and protect the tanks by forming a chromium oxide film on the surface of the steel. Moreover, the alloying element in a steel water storage tank creates a corrosion-resistant material. As a result, the tank keeps the water fresh and healthy without contaminating it due to atmospheric conditions. Additionally, these types of water tanks are easy to clean, thus making them an ideal choice for hygienic water storage.
In long run, SS Tanks prove to be of value, and they are also eco-friendly which means we can recycle them as well. They are one of the best choices for environmentally friendly products. Sun Stellar provides the safest and leakproof water storage tanks that have a life expectancy. Moreover, our commitment towards delivering an efficient and quality steel water tank makes us unique in the market. The setting of benchmarks concerning the quality helps our customers to identify the top-notch quality of our water tanks.
Why Stainless-Steel Storage Tanks are Important for Your Health?
When an industry determines the design for their products, they often think about 'hygiene. Fabricated materials used to build water tanks should have the capability of resisting the build-up of process soils to prevent water from disinfecting. They should not corrode or release their constituents that are harmful to human health. Therefore, Sun Stellar uses nickel-contained stainless steel water tanks that protect the water from infecting. Moreover, they are flexible because these can be welded into complex shapes and their fabrication has the tolerance of intense feasibility.
Cleanliness is greatly important when it comes to human health. The usage of plastic tanks becomes dull and damage after some years of use and eventually start decontaminating the water. However, Steel water storage tanks remain clean over time and possess the quality of bearing fluctuation in temperature, wear & tear, and any accumulation of dirt or bacteria.
Sun Stellar has been manufacturing its SS water storage tanks by forming a self-healing passive layer that acts as a shield against corrosion. Moreover, the bright and smooth surface of the stainless-steel water tank allows easy cleaning, thus removing bacteria effectively. Steel tanks can resist bacteria, which makes them an attractive yet safest material for the human body. Besides, people who use residential water storage tanks are assured about the safety of their water because stainless steel does not alter the taste and smell of the water.
Features and Functions of Steel Water Tanks
Stainless steel tanks are available in various types of materials like polyethylene, steel, and concrete. However, stainless steel has gained immense popularity due to its corrosion resisting property. Following are some features of stainless steel panel tanks-
SS tanks consist of low carbon steel. It has 10% or more chromium that forms a chromium oxide layer on its surface. Thus, it makes the steel corrosion-free, strong and flexible.
Industrial steel tanks are more durable when compared with plastic or concrete water tanks. Steel tanks resist oxidation by water, thereby ensuring purity and safety of the water.
Steel water tanks can easily survive in fluctuating temperatures. Therefore, there is no risk of freezing, cracking or rust.
Steel water storage tanks have excellent strength that absorbs heat from the sunlight, which keeps the water safe from algae.
These are environmentally friendly and contains 80% recyclable material.
No leakage or inertness in water, making it an excellent choice for hygienic water.
SS water tanks have a long lifespan, and they are a clear winner in the market.
Types of SS Water Tanks
Sun Stellar manufacturer best in class stainless steel water tanks in India. To preserve water, there are three types of water tanks designed by Sun Stellar to ensure the safety and quality of water.
Stellar Pure- 5 Layer Stainless Steel Water Tank
Sun Stellar has manufactured a 5 layers technology where each layer serves its purpose. The innermost layer of the tank made up of surgical grade stainless steel- 316 or Titanium Stainless Steel SS 316 Ti makes sure that water remains pure.
The other three layers of the 5-layer SS tank are used for insulation. The innermost layer has the coating for climate control, nitrile foam layer and high-density Polyurethane foam. The 3 layers protect water from fluctuating temperature and keep water safe. The last, 5th layer of the tank is also known as the cladding layer, which is made of Stainless Steel 304 grade. It helps all the internal layers from damaging.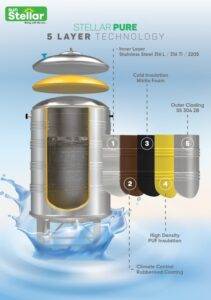 Features
10 years warranty with a life of 15-20 years complete protection.
Keep the water temperature outside 0 to 50'C.
Comes with an automatic water level controller
Multiple options for the thickness of inner tank- 0.8 MM, 1.0 MM, 1.5 MM
Best SS tank with PUF insulation that protects from chemicals.
Stellar Ultra- 7 Layer SS Tank
Stellar Ultra 7 Layer SS tank is made especially with surgical stainless steel like 316L, 316Ti, and DUPLEX 2205 grade. It highly protects the steel due to its strong, hygienic, and durable properties. It is also used as a domestic SS water tank with its incredible 7 layer technology. The innermost layer of Stellar Ultra comes in multiple material options such as Super Duplex SS 2205 or SS 316 Ti, Super Alloy 904 L. The type of material used depends on the water source and water quality. The other 5 layers are used for insulation and also act as a shield against fire. Also, the outermost layer of this water tank prevents any kind of deterioration to the tank. Sun Stellar produces an advanced technology SS fire water tank whose performance can be ascertained from its excellent properties.
Features
Comes with a fireproof insulation layer that protects the steel tank from fire.
Has automatic water level controller
Comes in multiple options in thickness of inner tank- 1.0 MM and 1.5 MM
Keeps the temperature ideal in extreme weather conditions.
Stellar Cocoon- Double Insulated Steel Water Storage Tanks
Stellar Cocoon as its name defines is particularly designed to protect the water tank from freezing regions where water does not stay in its liquid form. Such stainless-steel water tanks have a thick layer of high-density German layer PUF all around. It helps in preventing water from freezing and is an ideal choice for keeping the water at normal temperature in extreme or sub-zero climate conditions. Moreover, this type of insulated stainless steel tank saves electricity as well.
Features
Comes in double insulated technology which is covered from top, bottom, and sides.
Helps in keeping the water in liquid form in cold weather conditions.
Saves electricity or energy as it keeps the water temperature at normal.
Has heavy-duty stand that protects from high-speed wind or snow.
Comes in different options for inner tank thickness- 0.8 MM and 1.0 MM.
Why Choose Sun Stellar?
We aim to unlock exceptional values for our potential customers by working rigorously in exploring new energy projects.
Our products are competitive and highly effective that comes with less running costs.
We follow the laws and regulations that protect the manufacturing of our versatile products.
We thrive to produce technologically advanced and environmentally friendly products that are sustainable as well as recyclable.