Entertainment
Lifestyle
Tips to keep your baby busy during the pandemic while working from home
baby busy during the pandemic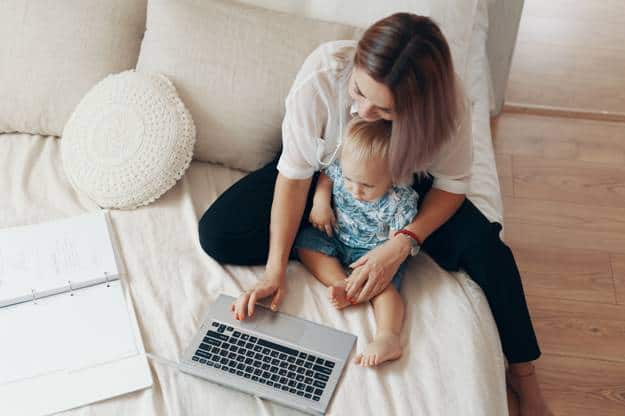 Tips to keep your baby busy during the pandemic while working from home
With most working parents taking the opportunity to work from home during this pandemic, the opportunity has its own set of hurdles. Transforming your home into an office comes with a unique set of challenges, especially when working with a toddler.
Now that schools and daycares are at a limit when it comes to capacity, parents are left with little to no choice but to combine their careers and caring for their children together.
Working from home with a baby will surely be difficult, but it will be possible. Our post will cover some day-to-day tips on how to assist with working at home with a baby.
Tips for balancing being a parent while working from home
Start your day a few hours earlier before your baby wakes up. You can have your cup of coffee/tea, take a bath, and get a head start on important tasks. This way you can start your morning off strong to conquer the rest of your day..
Working from home becomes less challenging when you put a plan in place. Creating a schedule that fits you and your baby's needs is very important. You can also implement a better work-life balance by discussing a flexible schedule with your employer. When you are consistent with a routine, it benefits both you and your child.
Managing time for your baby
Working from home has its perks but sometimes juggling being a parent and completing work tasks can be a bit overwhelming. Make sure to include breaks throughout your day. During this time, you can change your baby's diaper, feed your baby or even have a quick snuggle session.
Take turns with your partner
Taking turns with your partner to look after your little one can be a big help. Especially when you are working on an essential or priority-based task. This would also be an excellent time to have your partner feed your little one and freshen them up with a quick wipe down of natural baby wipes and change their clothing if need be. The time you have alone from the baby can also be a fun playdate with your partner to take them outside for a walk or car ride for some fresh air.  You can always swap the responsibility with your partner after a few hours, or when you are done with your task.
Encourage independent playtime
When you are working from home, things can be a bit hectic with work deadlines and caring for a baby. Encourage independent playtime for your little one by introducing different learning toys and educational videos to help with developmental growth.
Maintaining harmony between child care and you're work-life
Life seems challenging when balancing your professional life and caring for your child. A bit of planning and discussion with your partner and employer helps you have an adaptable attitude towards managing your work life and being a parent.
After all, it grants you the biggest perk to stay at home and spend quality time with your toddler while maintaining your career.