Travels & Tours
Best Treehouses in New York For a Dreamy Stay in the Woods
Treehouses in New York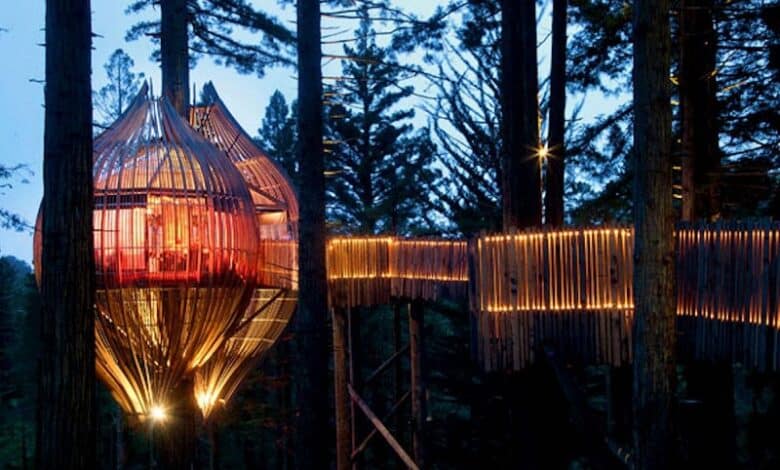 Have you ever stayed in a treehouse? It's an amazingly unique experience, isn't it? Would you not consider lodging in a treehouse for a night or two in New York while on your NYC vacation? For all those who loved the experience as well as those who are longing for it, below is a list of the best treehouses in New York. So, ditch the luxurious hotels and resorts this time and opt for a peaceful stay amid scenic natural settings.
Most of the popular treehouses are located in Upstate New York and can be rented via Airbnb; take a look at the best ones.
Willow Treehouse:
Beautifully designed, Willow Treehouse has to be the choice for a solitary sojourn, romantic getaway, or a small family vacation. Set in 34 acres of lush land, this treehouse in New York is just 15 minutes from the town of Woodstock. The treehouse overlooks a pond, the views of which you can enjoy from your room.
A sleeping loft (accessible by a ladder from the main living area) with a king bed and skylights, a spacious seating area, a fireplace for the cold nights, and a boho style chilling room at the back of the treehouse make sure you enjoy a comfortable stay. Go for a swim in the natural pond or relax in the hot tub which is warmed by firewood.
Location: Willow, New York
Rate: $360/Night
An Adirondack Tree House Retreat:
Climb up the wooden staircase spiraling around a tree to reach this charming Middle Grove treehouse nestled in the foothills of the Adirondack Mountains.
This elevated treehouse with a double bed and a loft can sleep up to three people. Just outside the sleeping quarters, there is a covered porch with chairs where you can engross yourself in reading, writing, or simply savoring the views.
The outdoor kitchen comes with a charcoal grill, a refrigerator, and a microwave. There is a full bathroom within a few steps from the house.
You'll find plenty of places to relax, for e.g., by the fire pit with carved log benches, at the stone-lined pond, or the hammock over the nearby footbridge. Hiking the mountains and swimming, boating, and fishing in the lakes are some of the many recreational activities.
Location: Middle Grove, New York
Rate: $260/Night
The Rock House:
Perched atop a huge rock in the forests of the northwestern Adirondacks, The Rock House features a simple, cozy cabin with a bedroom, sitting area, and kitchen. If you are looking for a secluded stay in the woods, this one is perfect for you.
Outside this treehouse in New York, there's also a fire pit, a Finnish steam sauna, an outdoor bathtub, and a separate private cabin. Explore the surrounding 160 acres of land with marked trails, flower and vegetable gardens, and a blueberry patch, or go kayaking, canoeing along the St. Regis River.
Location: Potsdam, New York
Rate: $125/Night
Whispering Wind Treehouse:
Whispering Wind Treehouse tucked away in a pastoral field (watch out for the fireflies in summer) under a canopy of trees is one of the best treehouses in New York for all those wishing to go off the grid to reconnect with nature. With no electricity and Wi-Fi, you'll be unplugged from the world, and this is a great opportunity to discover yourself.
All you are surrounded by is scenic nature that you cannot get enough of. And this light-filled tree house boasting many doors, windows, and a transparent roof does its best to make you feel one with nature.
Its rustic decor perfectly matches its setting and its large carriage door opens onto a balcony area with seating, where you can soak up the beautiful views of this environmentally friendly property.
Location: Argyle, New York
Rate: $195/Night
Along with the above, a few more extraordinary treehouses in New York include Magical Treehouse (Paul Smiths, NY), the Chez' Tree Rest Treehouse (LaFayette), Ultra Luxury Treehouse (Adirondack, Remsen), Spirit House Treehouse (Rhinebeck), Goodall'sTreehouse Cabin by the River (Taberg), Birdsong Cabin (Hebron), and Ash hill treehouse (Port Leyden). The next time you book for an offbeat vacation, do plan a stay at one of these treehouses for a memorable experience.