Tech
How to Stop Microsoft Teams from Popping Up
Microsoft Teams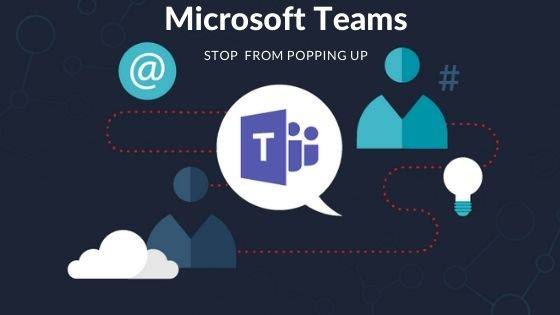 How to Stop Microsoft Teams from Popping Up
For all users, Microsoft teams are an exceptional communication application. But the utility gets annoying after you are done utilizing it. Many people have complained that the application auto starts even after closing it.
This repetitive popping is bothersome, and sometimes the action appears as the active window. The problem happens if the application is closed, minimized, or is located in the quick launch. It also pops up if you key in login details to a website.
Why Microsoft Teams Pops Up:
Microsoft teams pop up when it has been partially uninstalled; it's configured to auto-launch when you start up your computer or to operate in the background.
Because most people do not care to twist settings of application than using it, one of the reasons teams keep on restarting is its settings.
Stop Microsoft Teams from Popping Up:
Are Microsoft teams popping up every time? Using the following steps, you will solve the issue.
Step 1: Open the application on your computer

Step 2: Go to the settings section. To do that, press Ctrl/Command +, (Comma).

Step 3: Once the settings open up, look for the general tab on the left and click on it. Uncheck all the boxes near these commands, 'Keep the utility running when closed' and 'auto-launch the service on startup.'
The above process will stop Microsoft teams from launching or opening in the background when you start your computer.
Stopping Microsoft Teams Pop-Ups Completely
If you are done using Microsoft Teams and don't need it anymore, you can stop its auto launch by uninstalling it. Note that Microsoft Teams is different from other applications because it can reinstall itself. To uninstall Microsoft Teams fully and stop reinstalling, follow these steps.
Part 1: Uninstalling Microsoft Teams

Step 1. Make sure the application is not running on your laptop. To quit the app, right-click on its icon and select the Close window.

Step 2. Click the Start button and select Settings. On the Settings pane, choose Apps.

Step 3. Under Apps and Features, search for teams

Step 4. Once you see Microsoft Teams, click uninstall. A pop-up pane will show up asking you if you want to uninstall the application, choose yes.

Part 2. Uninstalling Microsoft Teams Machine-Wide Installer

Step 1. Use the 1st and 2nd steps in the above procedure

Step 2. From the Apps and Features option, choose Teams Machine-Wide Installer and decide to uninstall.

Step 3: Confirm the utility is entirely uninstalled by clicking uninstall and Yes again.
Summary:
Teams are a fantastic application used to enhance communication. However, what makes many users hate is its repetitive popping up. Using the steps shown in this guide, you will solve the popping up problem.
Remember, you can always reinstall Microsoft Teams whenever you need to use it, but for now, if you are not using it, there is no need for putting up with it. You can also disable it if uninstalling the app seems unreasonable to you. Now you know how to Stop Microsoft Teams from Popping Up.
Recommended: