Education
How Crazy Things You Can Make with a Paper Plate
Crazy Things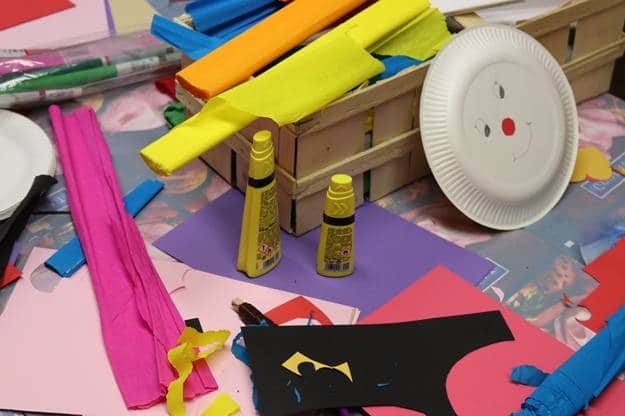 Crazy Things You Can Make with a Paper Plate
Paper plates. It's *awesome* not just to make meals simpler, but also it's enjoyable to craft with them!
We all should remember craft pieces that we made with paper plates in elementary or pre-school time. And kids nowadays are still creating their fair share of paper plate animals at school.
Here are some more cute and creative crafting ideas that you and your kids could try with paper plates. And some of these ideas are so unique, we bet you haven't tried them before.
All you need are some crafting items that we all school-going kids have in their school supplies. Some colored papers, some paints, scissors, glue, markers, tape, and a printer and you're all set to have some fun.
Easy and fun paper plate crafts
 Paper Plates Animal Masks
Get wild with the paper plates animal masks collection. Create wonderful 3D masks.They are simply lovely! They are ideal for pretend play.
You can create different types of animal masks with paper plates. For toddlers, you could just ask them to draw the face of their favorite animals then you could help them to cut in a few holes on the plate for the eyes and it's ready.
For older pre-school or junior school kids, you can get more creative with the masks to make them more fun and cute.
Holiday-inspired Paper Plate Crafts
Kids are often bored around the house during the holidays. Especially, now since the onset of the pandemic, all schools are conducting their school sessions online. As kids can no longer go around playing outside with their friends, you can uplift their mood and put them into the holiday spirit with the beautiful holiday-inspired paper plate crafts.
Let your kids get colorful with a paper plate turkey – all you need is some bright colored paper and googly eyes. Well, who doesn't love some wonky googly eyes!
All plans for going out shopping for Christmas decorations were shut down last year when we were are all in quarantine. Maybe, this year you could create some cool Paper plate reindeer or maybe a jolly red paper plate Santa. Let the kids build a cute snowman without having to go outside in the snow.
Paper Plate Princesses
If your kid is a princess, then they will love the Paper plate princesses. You can decorate their dress and bejewel them as they want with shiny beads and stone and maybe even a pretty tiara.Make your child feel like royalty with the paper plate tiara and bejeweled paper plate crowns. You can buy paper plates in bulk and can use it at any time you want to create some interesting paper crafts.
Paper plate crafts plates are not just fun, they can also help develop your kid's cognitive and creative skills. For example, make them learn to read time with a paper plate sundial. Or maybe you create some homemade mazes with paper plates for your kids to with even when you are not with them.
Cartoon Paper Plates
Kids love Disney and Pixar other cartoon shows or movies. They must have a favorite character that they can't get enough of. So, how about going a little old school with these mickey and Minnie mouse masks. Or maybe your kid will enjoy these Tom & Jerry paper plates. A smiley-faced paper plate pooh is just perfect to light up any kid's mood.
Nemo and Dory Paper Plate
TheNemo and Dory paper plate caps are so adorable! And your kids will look even more adorable waddling around wearing these on their heads. You can also create an entire set of the inside-out characters. Well, my favorite is these Moana-inspired Kakamora made out of paper plates. And why just stop at one when you can craft an army of paper plate kakamoras.
Are you planning a party for your kid? Craft a brilliant paper plate party decorations, and maybe if you have some time, you can make the beautiful paper plate pinata.
Do you love holding on to the crafts that your kids work hard on? But most of them end up in a box, forgotten at the back of the closet. In that case, help your child craft the paper plate dream catchers that you can keep with you and use as home decor as well. They are a brilliant way to show off your kid's creativity.
You can also color some paper plates with bright colors and pretty patterns and then hang them on your wall. You can also add some photographs to them to make your crafting times more memorable.
How about making some fun games with paper plates. 
Set up a race track for your marbles!  Build a racetrack with a steep part of the paper plates and glide your marbles down the path. The dipped part of the paper plates is ideal for the track.
Create more fun games with Paper Plates! Design a ringtoss match, and then you can put a little pretend contest with your kid.You must watch one of these paper plate frisbees in action. You would be amazed at how cool they are!
Anytime you are looking for an indoor activity to engage the children and keep them delighted, these paper plates craft ideas can come in very handy! And these crafting ideas are not just only for toddlers but also older kids as well.
You do not always need extensive crafting supplies to have some fun with your children. These multipurpose and frugal paper plates could be your best friend for a good crafting time with the kids.
INFORMATIVE: What Are The Major Issues In Education Today