Sports
The Best Goalkeeper Gloves For Kids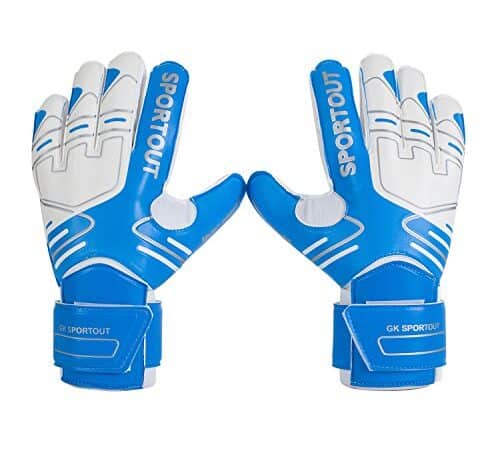 If you have an aspiring young goalie in your family, then you're probably aware of how quickly they go through goalkeeper gloves.
That's why it's important to invest in high-quality, durable gloves that won't fall apart too soon. Choosing the best goalie gloves for kids also means making sure their fingers are protected.
But above all, the right fit and grip ensure your junior goalie can perform at their best. If you're not sure which pair of gloves to get, here are a few fantastic options from Just Keepers.
1. Adidas Predator 21 GL Pro Super Stealth
As a brand, Adidas doesn't need any introduction. They offer verified quality and durability and overall great value for your money. The Adidas Predator Super Stealth gloves are the epitome of performance and comfort.
They offer more control with the strapless entry, which extends further than the average goalie glove. Your kid's wrist will remain secure, providing the confidence for them to give their best during a match.
These gloves feature Adidas Demonskin technology, which means the backhand and punching zone have protrusions that ensure better ball manipulation. The negative cut is also perfect for goalies with small hands because it's a snug fit across the fingers.
2. Precision GK Elite 2.0 Giga
We know that a negative cut is preferable for junior goalkeepers. The seams are located inside the glove, and the palm features a single piece of latex. The Precision GK Elite 2.0 kids' goalkeeper gloves go a step further with the Super Lite negative cut.
The goal is to provide absolute comfort while promoting the grip and the feel of the ball. The Precision GK Elite also offers a second-skin feel with the lightweight fabric backhand.
Another feature to appreciate is the multi-wrap palm system that covers the thumb, index finger, pinkie finger, and outer hand. These goalkeeper gloves are incredibly comfortable, plus they have a classic black and white design.
3. HO First Superlight Negative BLUE BLOOD
For kids, football is more about fun than competing, and they shouldn't worry about heavy equipment. If you need a pair of goalkeeper gloves that your child will forget they have on, the HO First Superlight Negative Blue Blood is an excellent option.
The backhand features Soft Silicone 3.0, proprietary technology with engraving system construction. The result is an exceptionally soft and comfortable feel over the fingers.
You also get the benefit of TC Fleece which delivers lightness at the back body, and a semi-elastic closing strap with Velcro.
4. Reusch Pure Contact Fusion
Sometimes it's challenging to find a pair of goalkeeper gloves that can withstand any weather. They either don't provide enough control in the winter, or they're not breathable enough in the summer.
However investing in more than one pair of goalkeeper gloves is not budget-friendly. Fortunately, Reusch thought of a solution and created Pure Contact Fusion junior gloves.
This model is the fourth generation of a fantastic series, and, of course, it came with improvements. The shorter cuff that delivers a lighter sensation and effortless entrance are what's new and exciting about these gloves.
The breathability through the highly flexible neoprene puts Pure Contact Fusion by Reusch at the top of the list.
5. PUMA Ultra Grip 1 RC
When it comes to reliability and durability, Puma sports equipment stands out. If you have a six-year-old who wants to be a goalie, these gloves will provide them with the confidence to deliver.
Everything about Puma Ultra Grip 1 RC is designed to maximize performance. They feature a 4mm Ultimate Grip Latex palm that feels like glue when you're holding a ball.
Rest assured that the anatomical finger construction will protect your youngest from discomfort when wearing the gloves. The color combination is fun, too, and your little goalie will feel like a superstar.
From Junior to Pro With Perfect Goalkeeper Gloves for Kids
Choosing goalie gloves for inexperienced players can be tricky. You want to make sure they have the comfort and protection they require.
The wrong pair of goalkeeper gloves can deter youngsters from getting on the pitch and making saves. But when their gloves feel comfy and safe, there will be no stopping them.
Just Keepers has an unparalleled selection of junior goalie gloves, and these five items are some of the best available options.
Read More Related Topics