Travels & Tours
Top 5 crazy festivals in Goa
Best and enchanting Festivals in Goa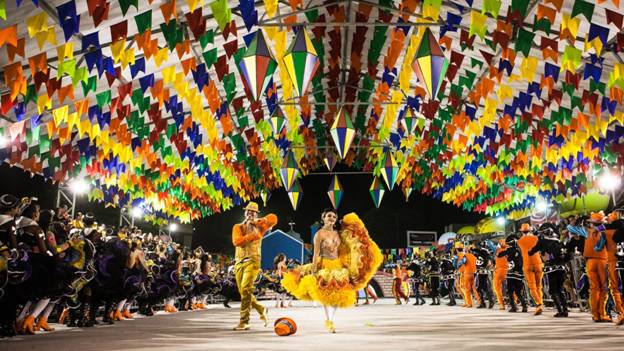 Top 5 crazy festivals in Goa
The state is a harmonious blend of Goan Catholics and Portuguese culture and celebrates religion, music, dance, and food festivals with extreme enthusiasm as Singing, dancing and entertainment are a part of the Goan lifestyle. It is not just a party state but you will also come across the cultural side of Goa which makes it a truly diverse state from the rest of others. Plan your trip to Goa and make the most of your holidays. From Carnivals to Fiestas Goa has it all, read on to know more about the colorful and unique festivals of Goa.
Goa Carnival – A call for all the party lovers
Being one of the most famous of all Goan festivals, the carnival has a different fan base because the youth here goes crazy. The Carnival is usually celebrated on the streets of Goa and it features parades, different dance forms, music, and entertainment.  The Parade takes place from the main street of Panaji (The capital city of Goa).
All those who have participated in the Parade dress up in both red or black colored garments and dance on the beats of the bands. Book hotels and travel tickets well in advance to get attractive discount offers.
Location: Panjim, Mapusa, and Vasco Da Gama
When it is celebrated: 13th– 15th February
Major Attractions: Fancy dress, Parades, etc
Goa food and cultural festival – A call for all the foodies
It is one of the most awaited festivals by the locals and tourists alike as it is a blend of delightful cuisines and entertainment. It promises ample relaxation and entertainment at the same point in time. Here you will also come across some of the best live performances by bands like Indus Creek, fireworks, DJ Nights, etc.
Some of the best Goan cuisines to try are as follows:
Famous Goan curry
Tomato Curry
Traditional Goan Souk
Bhindi Nariyal Sabzi
Brinjal Fry
Goan Drumstick coconut curry
Location: Beaches of Goa
When it is celebrated: In the month of January
Famous for: Delicious food and Goan culture
Sunburn Festival – A call for all the music lovers
If you love music you cannot miss witnessing the Sunburn festival, Goa as it is one of the most thrilling and exciting festivals of Goa. It has a portion of the world's most famous DJs playing electronic dance music (EDM) and normally hung on the seashores of Goa and makes it an ideal spot to make the most of your get-away in Goa.
The festival takes place at one of the best party destinations in the state. And if you are a true EDM fan you cannot miss out on witnessing the Sunburn festival. During day time you can partake in different exercises/workshops like Drum Workshop, Dream catcher workshop, Kite workshop and so on and to be straightforward it has something for everybody at the Sunburn Festival. So, if you are planning to be a part of the Sunburn festival in Goa, here's what you need to know!
Location: Calangute Beach
When it is celebrated: In the month of December for 3 days
Major Attraction: Asia's largest music festival
Well-known for: EDM music
Grape Escapade – A call for all the wine lovers
Grape Escapade is the biggest and world-renowned Wine Festival held amongst the beautiful state of Goa and amidst the Goan lifestyle. The festival is usually organized by Goa tourism every year since 2005. It attracts all the wine lovers from all corners of the world as being one of the famous festivals of Goa it has worldwide charm.
A culinary structure highlights luxurious cuisine from the nearby gourmet experts and eateries, and the Grape Escapade Queen challenge and Wine-Stomping meeting amp up the fun and the glitz remainder of this one of a kind celebration.
Here's what you should know before you visit the Grape Escapade festival in Goa
Location: Panjim, Goa
When it is celebrated: In the month of January
Major Attractions: Taste the delectable old wines; enjoy live music, fashion shows, dance performances and a lot more.
Well-known for: Wine tasting
Goa Mango Festival– A call for all mango lovers
Who doesn't like mangoes? So if you fall in the category of mango lovers Goa Mango Festival is for you. Along with buying and selling mangoes, many competitions are also organized. The main purpose of the Mango festival is to promote homegrown mangoes and Goa tourism also.
Mango Mania in Goa is real because during this festival you will also find a lot many dishes are made from homegrown mangoes as it is always said that Mangoes in any form are a rich source of nutrition and it is rich in fiber.
For mango lovers, the festival offers unique dishes like:
Mango Shrikhand
Classic hung curd
Alphonso Cheesecake
Alphonso Angoori Rabdi
Location:  Panaji
When it is celebrated: In the month of February 10, 2021
Major Attractions: Everything related to mangoes, activities, games, competition, cuisines, etc
Well-known for: Celebrating the mango season
Summary
So, what are you waiting for? Book your Goa tour packages and be a part of these amazing festivals in Goa and make your holidays memorable.