Travels & Tours
What Makes Bangalore The Perfect Destination For You
The Perfect Destination For You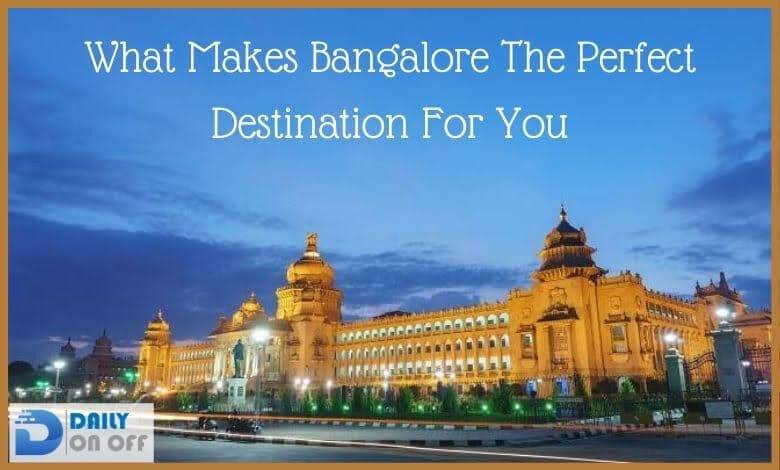 What Makes Bangalore The Perfect Destination For You
The capital of Karnataka, Bengaluru or Bangalore, is a picturesque city located in the southern part of India. Bengaluru is also known as the Garden City and the Silicon Valley of India. This cosmopolitan city displays a rich blend of the history of the country and present-day modern India. This brilliant amalgamation is something you need to see when you decide to visit India. The beautiful forts and palaces in the city are reminiscent of the past, and the concrete jungle of the suburbs surrounding Bengaluru is proof of all the development that has taken place in recent years.
If you find yourself wondering, 'why should I book my flight to Bengaluru?', then we can help you out. There are plenty of reasons for you to make your bookings as soon as possible. The list that we have made has all the reasons that you need to start making your bookings. No matter whom you are traveling with or when you can be sure that Bengaluru is the place for you. Read on to know more about why Bengaluru is the perfect destination for you.
Pleasant weather: The best part about booking your flights to Bengaluru is the weather in the city. Bengaluru is one of the few cities in India that has pleasant weather. With an average temperature of 86°F (30°C) even during the hottest month and an average temperature of 73°F (23°C) during the winters, Bengaluru is absolute heaven. The cool climate makes it easy for everyone to explore the city and enjoy all the beautiful places here. Weather is an important factor when you are planning your trip, and Bengaluru is a wonderful place for traveling in this respect.
Mouth-watering food scene: Anytime you choose to travel to India, food will surely be an important part of your trip. Bengaluru has a delectable food scene that you can explore when you visit the city. There is no shortage of trendy restaurants and hip cafes in the city. From the bars to the coffee shops and food joints, Bengaluru has only the best to offer everyone. The variety of food that you can find in this city will surely blow your mind. From authentic South Indian food to cuisines from countries across the world there is much to taste here. Filter coffee is something you need to try anytime you visit Bengaluru.
A stimulating art scene: The art scene in any city says a lot about it. Bengaluru has a spectacular art scene, and you can discover a lot when you travel here. The National Gallery of Modern Art (NGMA), located in the city, is a beautiful spot to explore. The brilliant white building nestled amidst lush greenery is a sight for sore eyes. But, the real magic is inside this impressive structure. The collection displayed here will take your breath away and make you fall in love with art all over again.
Ingenious architecture: As Bengaluru is a historical city that has seen a lot, the reflections of all the years gone by can be seen in the buildings in the city. From the stunning colonial architecture to modern skyscrapers, there is a lot to see here. There are several tourist spots in Bengaluru where travelers can see some great works of architecture. Tipu Sultan's Summer Palace and Bangalore Fort are two of the most prominent buildings in the city that you must visit. These historical spots have much to offer to anyone who visits. If you are interested in design and architecture, then Bengaluru is a great city for you.
A fantastic nightlife: The population of youngsters in Bengaluru is pretty high. This means that there are several cool places that you can explore. The nightlife in the city is something you need to experience at least once. Bar hopping is a popular activity among the younger generation, and you can try out the craft beers at various breweries in the city. That also gives anyone visiting the city a great opportunity to mix with the local crowd. If you are in the city, you can mingle with everyone from IT professionals to students to CEOs and strike up an interesting conversation. Who knows? You might even end up making a great friend or two.
Shoppers paradise: Shopping is an essential part of any trip, and you must buy loads of souvenirs to remember your trip. Be it your family or friends you need to take away something for everyone important in your life. That is another reason that Bengaluru is a popular destination for travelers. The shopping scene in the city is fantastic. You can find everything from mega shopping malls to small boutiques to flea markets here. Whether you want to buy something designer or bag a cheap deal at a second-hand shop, Bengaluru has an option for everyone.
Spend some time in nature: Even though Bengaluru is a metropolitan city, you will not have to worry about being overwhelmed by the crowds and chaos of city life. Bengaluru has tons of beautiful gardens and parks that you can escape to anytime the hustle and bustle of the city starts getting to you. All the parks in the middle of the city will make you feel like you are far away from the pandemonium that is a trademark of Indian cities. Cubbon Park and the Lalbagh are two of the most beautiful gardens that you can visit in the city.
These reasons should clear any remnants of doubt in your head. Bengaluru is the perfect city in every sense of the word, and you will be able to see it for yourself when you travel here. With the number of places that you can see in Bengaluru, there will surely be no dull moment. You will never again wonder, 'why should I book my flight to Bengaluru?'. So, whatever you have in mind for your next vacation, plan a trip to Bengaluru to see your dreams become a reality.